Flying has always been an aspiration of the human race since the beginning of time. Throughout the ages, through trial and error we got there and continue to improve in the aviation industry currently. Here are some of the highlights of the history in flying throughout time.
Hang Gliders 
The beginning of flight history in most peoples opinions is the Wright brothers flight. However, it was in the year of 1853 that for the first time a human ever left the ground in some kind of flying apparatus. The hang glider was designed by Sir George Cayley in Great Britain. Gliders continued to be worked on over the  nineteenth century, and these findings influenced the the Wright brothers when designing their aircraft.
The Wright Brothers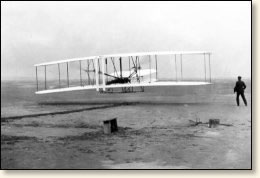 50 years later the first successful aircraft was designed and flew by the Orville and Wilbur Wright. Many others at this time were on a race to do achieve the same thing, but these two mechanics from Ohio beat them to it. Their first flight occurred on the 17th of December 1903 in North Carolina, lasting 12 seconds and covering 120 feet.
Transatlantic Flight 
After 1903 the aircraft developed rapidly. More inventors begun taking an interest in flying and the aircraft's became larger and better-controlled. Audacious flying goals were made, however not many were met. One of these goals was to make a transatlantic flight from United States to Europe. This was accomplished by a navy aircraft in 1919, with only one out of three aircraft's leaving the US making it to the UK.
The most well known transatlantic flight in history is when Charles Lindbergh flew in his aircraft named The Spirit of Saint Louis from New Jersey to Paris in May 1927.
First Airlines 
As airplanes became fashionable being such an exciting form of new technology, everybody soon wanted to fly in one. Due to this commercial airlines were created. The first airline formed was in 1913 and flew between St Petersburg and Tampa, Florida. This airline only lasted in business for one year, yet it was a milestone in the history of flight triggered the formation of dozens more airlines in the coming years.
Supersonic Flight 
An exciting aviation goal was to achieve supersonic flight. Charles Yeager was the first to achieve such a flight in 1947 in an experimental plane. Future research being put into supersonic flight lead to the development of aircraft's such as the passenger plane The Concord and the military reconnaissance plane named the Blackbird SR-71.
Cost To Build Cattle Yard Cover
The average cattle yard cover costs $284,000.
Smaller cattle yard covers cost less, at $85,000 and roughly 61m x 21m in size.
Others are full sized saleyards. These can cost up to $800,000 and cover an area of 110m x 90m.
To get an exact number on your particular project, request a free quote online here. 
REQUEST A QUOTE: Let us know more about your project to receive a full quote. Click here.
DOWNLOAD A BROCHURE: View a brochure of our agricultural builds. Click here.
HEAR FROM PREVIOUS FARM CLIENTS
DAIRY BARN PHOTOS
MORE: See a live gallery of our latest builds here. 
8 Body Language Signs that Show Your Horse is Trying to Tell You Something
Ears Upright.
If you horse's ears are standing up, is usually indicates that they're content. This is a relatively passive sign and occurs when the horse is relaxed, too.
2. Ears pointing forward.
When the ears are aimed forwards like little radars, your horse is attentive. Your horse is ready to work, or it may have spotted something that it wants to know more about.
3. Ears are back.
Your horse may be anxious or afraid if its ears are pointed backwards. You'll notice ears in this position when a horse is spooked.
4. Ears pinned back and down.
When the ears are pinned back and against the head, your horse is in an aggressive mood. Horses like this are dangerous, and they're trying to tell you that they're ready to confront anyone that opposes them.
5. Snaking the head.
If your horse lowers its head and swings it side to side, they're trying to intimidate something or someone else. This should be considered a warning flag; it may turn into more overt aggressive behaviour.
6. Stomping.
Horses sometimes lift a hoof and stomp it back into the ground. This indicated that the horse is irritated. The degree of irritation can by more difficult to know, sometimes a horse will stomp because is it being annoyed by a fly. Keep watch and make sure the behaviour doesn't escalate.
7. Teeth clacking.
Submissive horse will push their heads forwards and click there teeth. This happens most often in foals, who are weaker than other horses and often try to avoid confrontation. The signal means that the horse doesn't want a confrontation and is willing to accept the other horse's leadership.
8. Flaring nostrils.
Horse flare their nostrils to breathe in more oxygen. It keeps them alert and allows them to be more responsive to situations. You'll see this when your horse is being exercised, but you may also see it when the horse is being particularly attentive or thinks there may be a threat nearby.
READ MORE: Why Dressage Letters Are Those Letters. 
GALLERY: Kids & Their Horses.