Chalkboard spray paint.
Sounds kind of like tartan paint, doesn't it? But this is actually a real thing – spray any surface with some chalkboard paint, let it dry and that's it. You can know draw on it like a regular chalkboard.
You can turn any wall in the office into a space for new ideas.
2. Windows, windows, windows.
Studies repeatedly find that being new a window helps people work ore efficiently and effectively.
Always plan for this when build your office. You can never have too many windows.
3. Make your interior interesting.
Murals are relatively cheap but they make a huge difference when it comes to first impressions.
Make sure that your visitors step through your door and are surprised and impressed.
4. Get an old game machine.
Everyone appreciates a bit of fun. It can be a point of contact for your entire office – and your visitors.
It's also another way to impress the people that step into your offices.
5. Make use of skylights.
One of the most under-used creations of this century is the skylight. Zero-energy usage, low maintenance – these awesome things can be used to flood your work space with natural light and brighten up everyone's day.
Visit our live gallery here.
15 Ways To Show Your Horse You Love Them
One – Take them on a trail ride.
It's very easy for horses to get a bored. A trail ride is a great way to keep them stimulated and relaxed. It's also a great way to destress for the rider and it's the perfect opportunity to bond.
Two – Scratch their favourite itch.
You've seen the ones they struggle to properly reach. Get in there and scratch it for them. They'll love you for it.
Three – Condition their tail.
Get some tail conditioner and make sure everything it nice and untangled.
Four – Learn to massage your horse.
There are lessons all over the internet – develop a little massage routine for your horse. When you're doing it, make sure you're aware of how they're reacting so you can avoid anything that makes them uncomfortable.
Five – Buy your treats in bulk.
That way you'll get them cheaper and you'll never run out.
Six – Keep your grooming equipment clean.
Brushes that are already filled with hair can irritate the skin. Let your horse know you love them by making grooming as nice and comfortable as possible.
Seven – Dry any sweat after taking their bridle off.
Sweat and dirt can get caught under a bridle and make things uncomfortable for your horse.
Eight – Grow some carrots at home for your horse to eat.
The best part? Watching them eat the greenery of the carrot. Carrots are super easy to grow.
Nine – Be hands-on.
The more you touch your horse, the more comfortable they will be around you and the more you can bond.
Ten – Get a stall toy.
A simple stall toy that releases treats will keep your horse from getting too bored when you're away.
Eleven – Visit a local apple orchard.
A lot of orchards have left over or discarded apples. If you have a contact with an orchard, ask if you can visit to clean up these left overs. Your horse won't mind if they're a little bruised.
Twelve – Make sure your saddle fits well.
Get a saddle fitter to take a look – there would be nothing worse than having to ride wearing an ill-fitting saddle.
Thirteen – Talk to your horse.
A soothing tone of voice makes it easier for your horse to recognise you and be comfortable around you.
Fourteen – Schedule spare time.
The best way to build up a bond is just to have some quite time with your horse when you aren't doing anything in particular. Just be together, take some time out and get used to being around each other.
Fifteen – Be the leader.
Horses are social and are most comfortable when they know who is in charge. Let your horse know that you're taking care of things. You can do this by gently pushing against your horse, leading them and taking control. Horses bond strongest with others they admire. Be a leader for your horse.
To see out horse arenas, download our brochure.
13 Things To Know About Starting A Dairy Business
Thinking of starting a dairy business or making some money out of cows you already own? Here are 13 important tips that you should take into account when starting a dairy business.
Business Plan and SWOT Analysis 
Starting a dairy business is like starting any business, you need to know what you want to achieve and how to achieve it and analyse obvious questions such as these:
a. the resources available
b. the number of cows you will need to milk
c. where you want to sell the milk
d. if you need any employees, and their positions
e. what amount of money you will need to keep the business running
What Type Of Cow?
You will need to rear a breed of cow that is capable of producing sufficiently large quantities of milk. Holstein cows are an excellent breed for this purpose, their milk has a good constitution and makes a fine base for other milk products.
Other breeds you could choose would include Jersey, Swiss, Brown.
Consulting With The Experts 
Even though you may have a wide scope of knowledge in dealing with cows and milking them, it is important to consult with industry experts when setting up a dairy business. Professionals you should speak with would include bankers, investors, nutritionists, agronomists, and educators.
You should also speak with other dairy farmers who are running a successful dairy business and seek their advice. It helps to attend field days and exhibitions regarding farming and dairy where you can pick up a lot of useful information and speak to a lot of knowledgeable industry experts.
How to build equity 
Equity is an important factor in the success of any business especially in the food industry. The 'herd first' strategy is used by most dairy farmers attempting to start a dairy business. The idea is to grow the number of cattle you have before making fixed investments in land, equipment and buildings. This makes sense as those assets depreciate but cattle do not.
How To View Dairy Farming 
Experts in the dairy industry inform that a dairy farm's success will depend on the cow's ability to live a healthy life in producing milk and bearing calves which grow to contribute to the herd. It is important to take care of your herd's nutrition, comfort and reproduction health to ensure the highest productivity and health of your herd.
How Will You House Your Cows? 
The size of your herd and your choices for management and milking will assist in determining how you will house your herd. There are three common options to choose from which are listed below:
Tie Stall Barns- Each cow will have its own stall that is big enough to be comfortable with a bed of straw and water provided. Food is provided in the stall also. The stalls are designed for efficient cleaning and milking.
Open Lots- Your cows are able to graze freely in the outdoors. However you will need to provide housing in cold weather.
Freestall Barns- This is a mixture of the two options above. Your herd will feed, rest and roam inside a barn and then will retire to individual stalls. The barn is used as a milking parlour.
You should remember it is important to have designated spaces within barns for cows at different stages of the dairy process.
Milking Parlour Design 
There are several different types of milking parlours including walk through, rotary, and parallel. The herringbone design is popular, this is where the cows stand next to each other and the milking equipment is attached from behind. You may choose the type of parlour that suits you with your herd and facilities.
What Will Your Herd Eat? 
For good quality milk production, dairy cows needs to eat large quantities of protien and carbohydrates. You need to expect each of your cows to consume an average of 29 kg of feed. This can include clover, alfalfa hay, ground oats, barley etc. You should add mineral and vitamin supplements to the feed.
Dairy Cows Life-cycle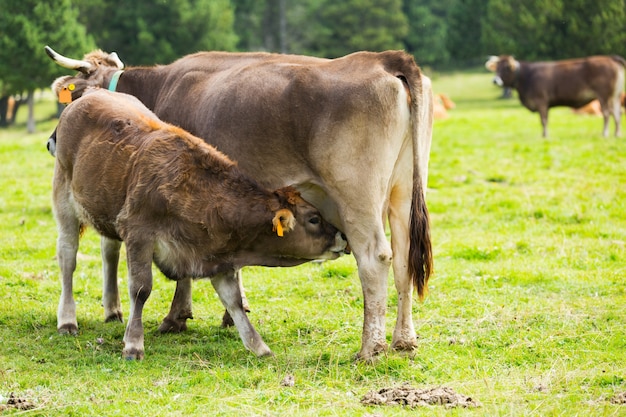 It is important that you know about the life cycle of dairy cows if you are going to run a dairy business. A cow must give birth to a calf in order to start producing milk. Cows are usually bred at the age of 15 months. You need to feed the calf individually while its mother joins the milking herd and continues to produce milk for about 10 months. Milk production ceases for two months preceding the birth of the next calf.
Organic or Conventional Milk Production?
These two types of milk production differ from one another largely. Organic milk is antibiotic-free, which means you cannot treat any of your cows with antibiotics if they fall ill. Also organic cows are fed on organic feed that doesn't contain additives and is grown without pesticides. Organic dairy farming is more expensive to run however, people will pay more for organic milk than they will for conventional milk. Depending on which market you wish to sell to will determine which form of dairy milking you will choose to practice.