13 Things To Know About Starting A Dairy Business
Thinking of starting a dairy business or making some money out of cows you already own? Here are 13 important tips that you should take into account when starting a dairy business.
Business Plan and SWOT Analysis 
Starting a dairy business is like starting any business, you need to know what you want to achieve and how to achieve it and analyse obvious questions such as these:
a. the resources available
b. the number of cows you will need to milk
c. where you want to sell the milk
d. if you need any employees, and their positions
e. what amount of money you will need to keep the business running
What Type Of Cow?
You will need to rear a breed of cow that is capable of producing sufficiently large quantities of milk. Holstein cows are an excellent breed for this purpose, their milk has a good constitution and makes a fine base for other milk products.
Other breeds you could choose would include Jersey, Swiss, Brown.
Consulting With The Experts 
Even though you may have a wide scope of knowledge in dealing with cows and milking them, it is important to consult with industry experts when setting up a dairy business. Professionals you should speak with would include bankers, investors, nutritionists, agronomists, and educators.
You should also speak with other dairy farmers who are running a successful dairy business and seek their advice. It helps to attend field days and exhibitions regarding farming and dairy where you can pick up a lot of useful information and speak to a lot of knowledgeable industry experts.
How to build equity 
Equity is an important factor in the success of any business especially in the food industry. The 'herd first' strategy is used by most dairy farmers attempting to start a dairy business. The idea is to grow the number of cattle you have before making fixed investments in land, equipment and buildings. This makes sense as those assets depreciate but cattle do not.
How To View Dairy Farming 
Experts in the dairy industry inform that a dairy farm's success will depend on the cow's ability to live a healthy life in producing milk and bearing calves which grow to contribute to the herd. It is important to take care of your herd's nutrition, comfort and reproduction health to ensure the highest productivity and health of your herd.
How Will You House Your Cows? 
The size of your herd and your choices for management and milking will assist in determining how you will house your herd. There are three common options to choose from which are listed below:
Tie Stall Barns- Each cow will have its own stall that is big enough to be comfortable with a bed of straw and water provided. Food is provided in the stall also. The stalls are designed for efficient cleaning and milking.
Open Lots- Your cows are able to graze freely in the outdoors. However you will need to provide housing in cold weather.
Freestall Barns- This is a mixture of the two options above. Your herd will feed, rest and roam inside a barn and then will retire to individual stalls. The barn is used as a milking parlour.
You should remember it is important to have designated spaces within barns for cows at different stages of the dairy process.
Milking Parlour Design 
There are several different types of milking parlours including walk through, rotary, and parallel. The herringbone design is popular, this is where the cows stand next to each other and the milking equipment is attached from behind. You may choose the type of parlour that suits you with your herd and facilities.
What Will Your Herd Eat? 
For good quality milk production, dairy cows needs to eat large quantities of protien and carbohydrates. You need to expect each of your cows to consume an average of 29 kg of feed. This can include clover, alfalfa hay, ground oats, barley etc. You should add mineral and vitamin supplements to the feed.
Dairy Cows Life-cycle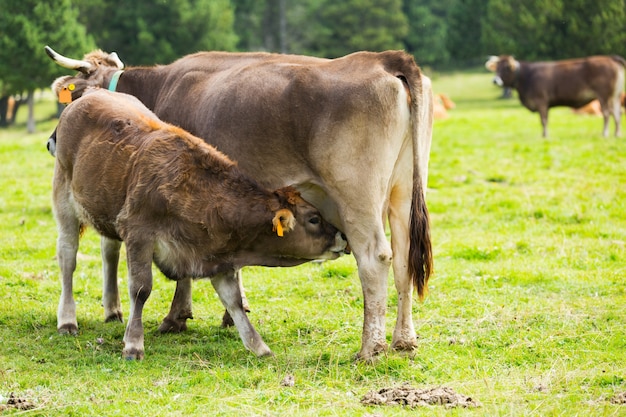 It is important that you know about the life cycle of dairy cows if you are going to run a dairy business. A cow must give birth to a calf in order to start producing milk. Cows are usually bred at the age of 15 months. You need to feed the calf individually while its mother joins the milking herd and continues to produce milk for about 10 months. Milk production ceases for two months preceding the birth of the next calf.
Organic or Conventional Milk Production?
These two types of milk production differ from one another largely. Organic milk is antibiotic-free, which means you cannot treat any of your cows with antibiotics if they fall ill. Also organic cows are fed on organic feed that doesn't contain additives and is grown without pesticides. Organic dairy farming is more expensive to run however, people will pay more for organic milk than they will for conventional milk. Depending on which market you wish to sell to will determine which form of dairy milking you will choose to practice.
Ten of the Most Impressive Public Buildings in the World
1. The Beehive, New Zealand.
The executive wing of the New Zealand government are housed in this impressive building, which echoes Aztec towers and Roman colosseums.
2. The National Museum of African American History.
Three stories of this confronting building are above ground – another three are below ground. The dark, rusty exterior echo the contents; hard to adjust to but demanding respect.
3. The Vennesla Public library.
This excellent little house for books is situated right in the middle of the city, becoming a meeting place for civilians and a space for thought.
4. Thurgood Marshall Judiciary Building, USA.
A balance between modern and traditional, the glass update to this building reminds its occupants of the idea that progress is built on tradition.
5. Romanian Parliament, Bucharest.
One of the largest & most expensive single government building ever built.
6. Port House, Antwerp.
This strange, futuristic spaceship-like structure was built onto an existing but defunct fire station. The building now houses the local Port Authority – a collection of government offices in a surprisingly exuberant building.

7. The LiYuan Library, China.
Made of natural materials, this beautifully harmonious building has no electricity supply, so it closes at dusk, when it gets too dark to read.
8. Government House, Azerbaijan.
A slab-like castle, this is another example of a government building that aims to impose itself upon passers-by and cast an air of timelessness.
9. Finnish National Parliament, Helsinki.
This intimidating slab of a building houses the Finnish parliament. Daunting, sturdy, solid, ungiving.
10. Toyko Metropolitan Government building.
Unique because of its sheer size and lack of restraint, this building is not what you'd expect from sleepy government organisations.
WATCH: Aerial Drone Footage of our buildings. 
CONNECT: Central Steel Build on Facebook.