The article below covers everything you could possibly want to know about building a shed, including costs, examples, building permits, square metre costs, mistakes to avoid and what to look for when finding an appropriate builder.
The article covers domestic sheds, storage sheds, hay sheds, car garages, carports, grain sheds, stable barns, equestrian structures, indoor riding arenas, aircraft hangars, office complexes, warehouses, factories and any other kind of shed, for that matter!
Different Kinds of Sheds & Their Average Costs
All of the below costs are in Australian dollars and they include the cost of installation. They do not include the cost of internal fit-outs, plumbing, electricity etc.
Garages
The average cost of a garage is $27,185 based on 1,060 quotes.
A typical size would be a 10.8m x 7m garage.
Hay Sheds
The average cost to build a hay shed is $58,234 based on 369 quotes.
A typical size at that cost would be a 30 metre x 12 metre hay shed.
Indoor Riding Arena Covers
Our average cost for an indoor horse riding arena cover is $153,864 based on 373 quotes.
At this cost, a typical size is a 61m x 21m riding arena cover.

Livestock Yard Covers
The average cost to build a yard cover is $128,599 based on 151 quotes. This includes quotes for saleyards over 10,000m2.
For private yard covers, the average cost drops to $44,080 from 132 quotes.
A typical livestock cover at this cost would be 24 metres x 18 metres.

Workshops
On average, a workshop costs $82,964 based off 141 quotes. This average includes industrial-sized warehouses that include office complexes.
However, if you're looking for a backyard workshop (like a mancave), you're looking at less: the average cost is $33,109. At this cost, a typical size is 12m x 8m.

Aircraft Hangars
The average aircraft hangar costs $123,011 based on 57 different quotes.
An approximate size at this cost would be a 16m x 21m hangar capable of holding multiple planes or helicopters.

Warehouses
The average cost to build an industrial warehouse is $166,336 based on 284 different quotes of past jobs. A typical size at this price would be a 35 x 30 x 6.5.
However average prices vary significantly for warehouse buildings depending on the size. Smaller warehouses can cost as little as $10,000, whilst larger warehouses can cost as much as $400,000.
Factories
The average costing to build a factory is $209,659 based on 68 different quotes of past jobs. An approximate size for a factory of this price would  be 76 x 25 x 6m.
Smaller factories usually cost from $10,000 – $45,000. However larger factories are commercial sized jobs and are more expensive usually ranging from $80,000 to $400,000.

Shearing Sheds
The average cost to build a shearing shed is $59,714. An average size shearing shed would be 24 x 11 x 5. This price is based on 42 amount of different quotes.
The price of a shearing shed ranges from $15,000 up to $150,000 depending on its size.

Carports
On average, a carport costs $11,288 to build, based off 227 quotes. At this price, a typical size would be 12 x 8 x 3m.
Small carports can cost between $3,000 – $5,000, while larger carports can cost up to $18,000.

Buildings Permits
What are they and will I need one?
Building permits are documents that approve the construction of your shed and are issued by your local council.
If your shed is over 10 square metres, then you will require a building permit. Anything over a 3 x 3 metre shed will require a permit.
You will also require a building permit if your shed matches any of these conditions:
The height of the shed is over 2.4 metres.
The shed is closer to the boundary than 90cm.
The shed is attached to an existing building or is an extension to an existing shed.
How Much Do They Cost?
Unfortunately, councils do charge a fee for a building process – they usually cost around $900.
Who Sorts Out The Building Permit?
You can do this yourself as the owner of the property. If you're going through a shed building company, they should offer to do it on your behalf to save you doing the paperwork.

Planning Permits
What are they and will I need one?
A planning permit is paperwork issued by your council that gives permission for you to proceed with development of your land. This happens before the building permit stage.
Many sheds will not require a planning permit – the only way to know is to contact your council.
Generally, there are four conditions that mean you will need a planning permit:
Your property is smaller than three hundred square metres.
Your property has a special zoning.
You plan on building on a property that has no dwelling/house.
There is an overlay on your property (a council document recording the environment around the property).

The Building Process
For custom engineered designs (anything larger than a backyard shed), there is an 8 step process.
This 9 step process includes the manufacture of all material components in our Kyneton factory. Below is a complete list of steps in the process:
Step 1: Consultation – We meet with you do discuss your basic ideas, and sketches or plans you have developed, and any considerations that need to be taken into account.
Step 2: Site survey and inspection – We visit your site to address any issues and to inform our draftsmen when they design the building. We take into account drainage, wind tunnels, weather etc.
Step 3: Design & Planning – Your shed is designed and a model and drawings are created.
Step 4: Building Permits – Your shed designs are submitted to your local council for approval.
Step 5: Engineering – Your shed designs are sent to our engineer, who ensures that the planned shed can withhold any load, wind levels or other stresses.
Step 6: Fabrication – Steel is ordered in to our factory and is welded together to create the components required to build your shed.
Step 7: Galvanising – Your shed components are sent off to be galvanised – which means they are coated in zinc and protected from rust and weathering.
Step 8: Construction – Your shed goes up! We get a team of our trusted erectors to put the shed up on site.
Step 9: Hand over – The job is finalised and the shed is yours!

Your Shed's Distance From The Boundary
How far are you legally required to build your shed from the boundary? It depends on the size and usage of your shed.
Domestic (or 'backyard') sheds need to at least 15 centimetres from the boundary. However, if they are over 3.6 metres high, then they need to be 1 metre from the boundary. The distance increases at the height of the shed increases.
Farm or agricultural sheds need to be 5 metres from the boundary unless there is a road nearby. These sheds also need to be 20m from any road, and 100 metres from any highway.
Industrial sheds may have stricter limitations and will depend on your council.
Mistakes To Avoid When Building A Shed
There are common problems that occur if you go into a shed project without proper prior knowledge. These are the things to avoid:
Getting your engineering done separately.
It won't work out cheaper to have your engineering or designs done by a third party (ie. a company that is not affiliated with the company building your shed). Usually, it makes it more difficult for the shed builder to proceed with the plans and it means that they can't use their knowledge to find cost saving efficiencies.
The most cost effective way to build is to find a reliable builder and stick with them through the process. If you still want to have engineering done separately, communicate this to your shed builder so they can communicate with your engineer and ensure you're getting the best possible solutions.
2. Going for price over quality. 
There are times when it makes sense to go for the cheaper option. If you have a very, very small shed that you won't spend much time inside, then it may be worthwhile.
Price premiums usually go into the structural steel of the shed (cheap sheds use c section frames, expensive sheds use full RHS steel). This means they're protected against heavy weather, they shake and move less, they weather better and they're more pleasant to be inside.
If you're looking to make an investment in your property, think about how the shed will be ten years from now.
3. Overlooking the foundation.
When planning and costing a shed, you need to remember that the site needs to be prepared. It should be levelled and crushed rock should be laid.
Before you do anything, of course, decide on a shed builder you trust, then ask them how they need the site to be prepared. They will be able to give site-specific advice.
4. Violating building codes. 
Councils are unforgiving when their regulations are violated, particularly when it comes to building. Always make sure you've contacted and know exactly what they require from you before you proceed with building a shed.
5. Attempting to DIY a large shed.
Doing it yourself can work with small sheds. In fact, if you own a farm, you might have the machinery, tools and time to safely and securely erect a larger shed.
But usually, your first attempt won't match the decades of experience that established shed builders bring with them.
Know what you are getting into before you decide to DIY anything larger than a garden shed and make sure you have the equipment to do it properly and safely.
Testimonials
Hear about previous clients and their experience building sheds, from small winery sheds to huge grain sheds.
Transcript: "I'm Owen Latta from Eastern Peake Wineries. We've got this new extension that we've done just behind us here. Central Steel Build were very good the way they went about it. They were fantastic the way they said 'Well, this is the size you can go with so you're not spending too much extra on things you don't need.' Easy to work with and the quality of the steel that was used was right on."
Transcript: "I'm Mark Brisbane, a dairy farmer at Dhurringile, near Shepparton. It's very strong. It went up in 2 and a half days. It's very easy and very enjoyable – cows actually want to come into the dairy."
Transcript: "I'm Jim Riordan from Riordan group in Geelong, Victoria. Right from the outset, from the designs to the planning, through to construction, the results have been fantastic. The professionalism in the way this has been handled has been first class. The sheds will be here for a long time & they suit our bulk requirements."

Building A Liveable Shed or Shed Home
Sheds can be built to a Class 1a standard – this means that they can be inhabited as a livable building.
The average cost of a habitable dwelling frame is $64,699, based off 39 quotes.
Building a steel-framed home is usually an aesthetic choice or a choice that intends to protect the structure of the building against bushfires.
There are three things to keep in mind when building this kind of shed:
 There are a number of criteria that you'll need to meet as you plan and build your structure to allow it to be inhabited. A good shed builder will know all of these requirements and can work through them with you during the design stage.
2. The cost average mentioned above is the cost for the engineering, fabrication and erection of the frame only. Internal finishing and details that will complete your home and make it liveable are not included.
3. It might not be cheaper than wood. Many people contact shed companies expecting it to be a cheaper alternative to traditional home building. This usually is not the case. A steel frame may be more expensive, but also offers a stronger, fire resistant home.
Cost Per Square Metre
The cost per square metre of a shed comes down to the complexity, size and style of the shed. This figure varies widely from project to project, but below we outline rough guides.
These prices are estimates, and final quotes might fall outside these ranges.
Domestic Sheds: $230 – $320 per square metre.
Farm Sheds: $60 – $115 per square metre.
Equestrian: $85 – $140 per square metre.
Commercial: $125 – $235 per square metre.
Industrial: $100 – $180 per square metre.
Custom: $185 – $460 per square metre.
Educational: $90 – $150 per square metre.
Aviation: $180 – $290 per square metre.
Getting In Touch
You can contact one of our consultants by emailing reception@centralbuild.com.au or by giving us a call on 1300 955 608.
Get A Free Online Quote
10 Ways to Manage a Warehouse Effectively
In a business it is critical to manage your warehouse properly, allowing maximization of productivity and adherence to budgets. Managing your warehouse well can impact your business massively in a positive way. Here we give you 10 ways that will help you run your warehouse more efficiently in the future.
Don't Forget to Organize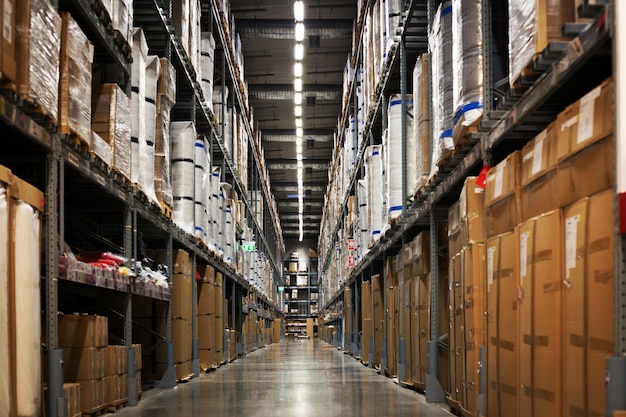 It is logical to realize that if your warehouse is not organised well, incoming products will not be put in appropriate locations. As a result of this you immediately loose efficiency as pickers will spend unnecessary time trying to find products.
Receiving Stock 
When products are received into your warehouse they should be inspected immediately so shortages, damages or wrong products are identified and can be dealt with. This will save problems later. It is important at this stage for incoming stock to be put away straight away, as materials left in receiving will show on in your system but will not be located on the shelves.
A Logical Picking Process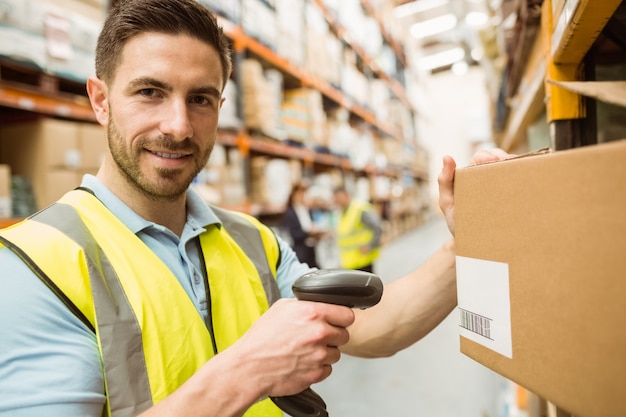 The amount of time taken picking orders is a large amount of time, thus resulting in a high amount of cost. Organize your warehouse efficiently so you can organize pick lists for better time control. This may differ depending on what kinds of items you ship and the amount you ship at one time. Analyse how in your business situation you can maximize warehouse picking efficiency.
Reorganization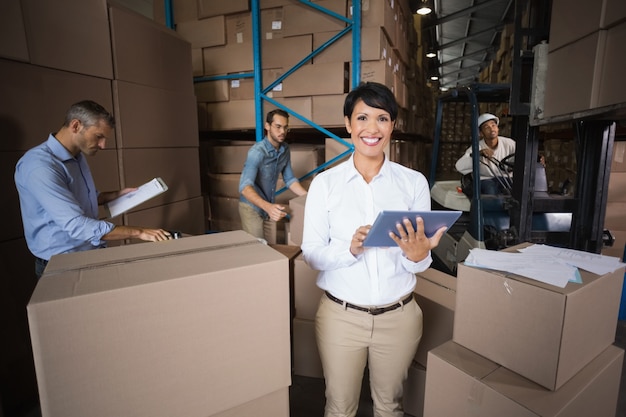 As things change over time it is necessary you keep your warehouse organised up to date with alterations occurring in your business. Reevaluate your inventory and storage methods periodically to ensure you keep the right product flow.
Quality Control 
Items must be verified before being packed and processed when products are sent to your shipping station. As packers work fast they often don't have the time to double-check items. When potential problems are identified the products should be returned to their appropriate locations to prevent a pile of wrong products from piling up.
Safety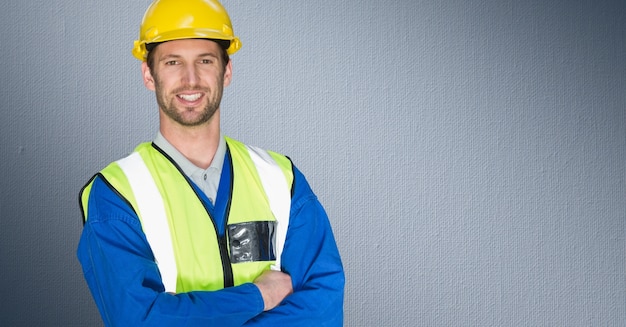 There are certain requirements according to workplace health and safety that must be adhered to in your warehouse to protect your workers from harm. Accidents could cost you the skilled labor needed to run your warehouse properly.
Maintain Appropriate Lighting 
Having sufficient lighting in your warehouse is important for a number of reasons. It allows for a safer work environment and will assist your employees to better do their job.
Training for Staff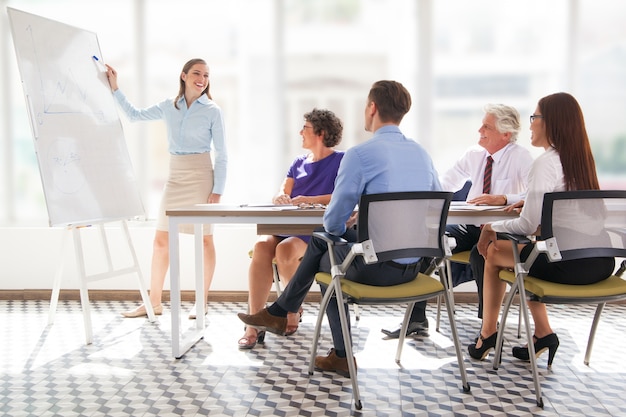 Training employees appropriately for their job roles is a necessity and retraining is needed from time to time also. Make sure you schedule time for training in advance so when the time comes it is already organised. It is a good idea to incorporate cross- training so your employees will have appropriate skills to handle more than one type of job. This will allow for your warehouse to function normally in the absence of an employee.
The Right Software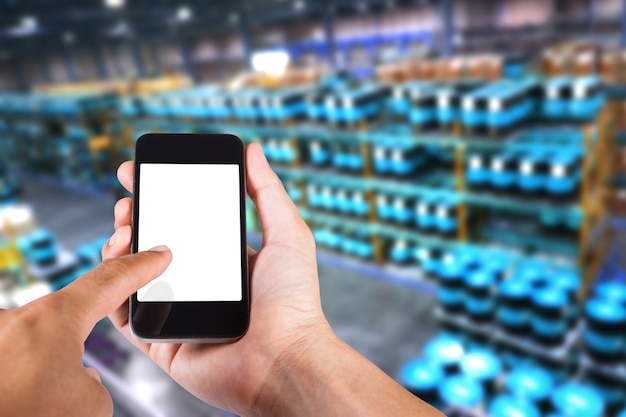 There are so many choices in software for material handling and warehouse management and it is important to choose the right ones. Remember that some software may not be necessary for your business, and that is better to just choose individual programs that will provide the right solution for your company.
Prompt Delivery and Customer Service

It is critical no matter what industry you are in that you and your clients know where your products are. Provide real time information in relation to delivery and courier services enhances your customer service. It will also save many problems that are associated with delivery when it is not properly handled.
Famous People With Backyard Sheds
A backyard shed tends to be perceived as a rather humble structure for the use of ordinary people, not famous persons who people all around the world aspire to be. However there is quite a number of notoriously known persons whose backyard shed holds esteemed importance in their lives.
Roald Dahl 
Roald Dahl wrote most of his popular children's books in his backyard shed of which was dubbed his "writing hut'. He scared his children and his grandchildren into not disturbing him when he was in there by telling them it contained wolves.
George Bernard Shaw 
George Bernard Shaw is a well known playwright, and is best known for plays such as Pygmalion. He wrote most of his plays on a typewriter in his backyard shed, which was on a turntable so he could move it according to the suns direction throughout the day.
Bill Oddie 
The well-known 'Goodie' loves his backyard shed, having described it as "one of few places I feel secure." He has turned it into his own private oasis and personal space.
Barbara Hepworth 
The famous British artist and sculptor kept a bed in a small backyard shed at her home to take power naps in. This is now found at the Barbara Hepworth Museum and Sculpture Garden.
Roger Waters
Roger Waters from the band Pink Floyd turned his backyard shed into a recording studio, where he originated the demo tracks that became the bands album The Dark Side of the Moon. 
Vic Reeves 
The English comedian and artist admitted that he owns five different sheds in his backyard, as they give him a place to "take some time out to escape for an hour or two."
Benjamin Britten
Britten created some of the most beautiful and famous pieces of music heard in the 20th Century in his shed at home.
Phil Pullman 
Phil Pullman is known to have used to only write his novels in his shed at home. He refused to have it cleaned, fearing it would disrupt the flow of his writing. When he moved into a different house he left the shed to the illustrator Ted Dewan on the condition that it would be used for creative work only.