A Magnificent Riddells Creek Indoor

This beautiful indoor riding arena looks excellent nestled amongst the pines of a gorgeous Riddells Creek property. 
The total size of the arena comes in at 60m x 21m and is 5.5m high.
The owners use this arena privately, and the placement of the arena allows them to ride in all weather conditions, shielded from wind and rain. 
READ MORE: 10 of the most beautiful horse riding arenas in the world. 
READ MORE: Cost to build an indoor riding arena. 
Thinking of building your own Indoor Arena?
8 of the strongest buildings ever built
The Public Safety Building
This building, in Salt Lake City, houses police, fire and emergency services. It has been built to withstand even the most extreme earthquakes without suffering any damage and remaining operational.
Chinese temples.
These temples, built thousands of years ago, somehow manage to withstand earthquakes as newer, presumably more advanced buildings fall to the ground.
How do they do it? It was recently discovered that a combination of heated lime and sticky rice is used as mortar, which has proven nearly indestructible.
Shanghai Tower
The tallest building in China, the Shanghai tower's twisting design allows it to reduce the friction of wind by 24%. It's also made with less structural steel that other towers of comparable size.
Hurricane-proof home.
Built by two architects, this dome-shaped house has already survived 4 hurricanes. The heavy concrete, combined with steel foundations, keep this building in place under the harshest weather conditions.
Cheyenne Mountain Complex.
Perhaps difficult to call a building, this complex was build by the USA during the cold war to monitor airspace. It's buried deep into the mountain, making use of nature as fortification.
Fort Knox.
Build after World War I, Fort Knox is the most famous of all strong buildings. It has since been used to store the United States bullion depository, for which it is most well known.
One World Trade Centre.
Built on the site of the original twin towers, the One World Trade Centre is 'the strongest office building' ever built. It makes use of a heavy concrete foundation and heavily protected, reinforced concrete walls protecting emergency access routes.
Zeljava Airbase.
The largest underground structure in Europe, this airbase monitored airspace. It was overrun during the Yugoslav wars, and dangerous traps were laid to prevent its future use.
Download  a brochure to see some of our Strongabuild buildings.
READ MORE:
10 Of The Largest Factories In The World 
7 Of The Best Aces In History
Flying an aeroplane is an extremely difficult task, let alone being talented enough to be dubbed an 'ace'. The term ace is a military reference that describes a pilot that shoots down at least five enemy aircraft. This definition has become slightly less relevant in modern times as new aviation technology has seen a decline in the common occurrence of 'dog fights' in wars such as World War II. Here below are listed 7 men who have made history, being the aces of aces.
Manfred von Richthofen- World War I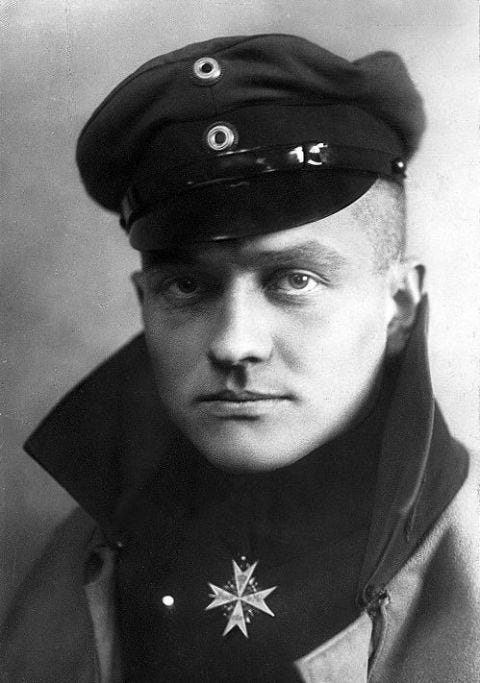 Everybody has heard of the 'Red Baron', even if they are not exactly sure who he is and what he did the name stands as historically famous. Richthofen was a pilot for the Imperial German Army Air Service. Through his contribution to the war he had 80 credited kills, having more areal victories in World War I than any other pilot. He achieved fame across all of Europe and became a national hero in Germany. However in April 1918 Richthofen received a fatal wound in Northern France, and died in the cockpit after making an emergency landing.
Erich Hartman- World War II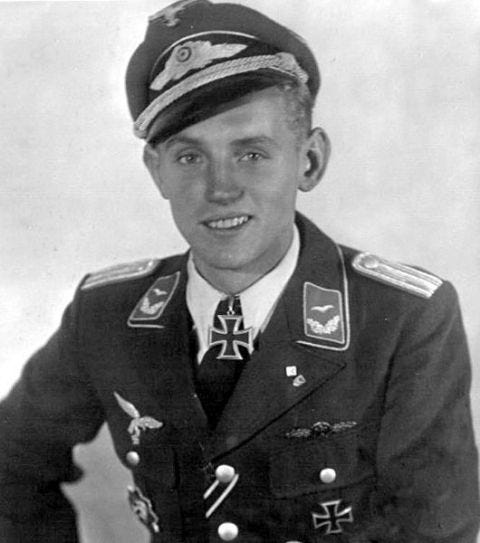 Hartman is known as the ace of aces, with more aerial combat victories than any other pilot in history. He was known as 'Bubi' to the Germans and 'The Black Devil' to the Soviets. He shot down an exceptional number of 352 enemy aircraft's during his career in the German Airforce. Hartman was never forced to land due to enemy fire and prided himself on continually improving his skills as a stalk-and-ambush fighter over his 1,404 combat missions.
James Jabara- Korean War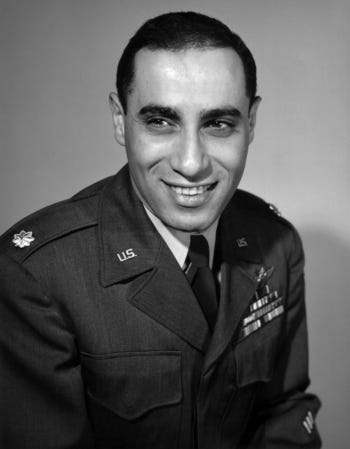 Jabara was a successful pilot for the United States Airforce through World War II, the Korean War, and the Vietnam War. He became the first American jet ace in history in the Korean war when he tried to let go of his spare fuel tank, but it did not separate from his wing fully. He pushed on and gained two more victories despite his aircraft's disadvantage. After the Korean War Jabara soured up the ranks to become the youngest colonel at the time.
Muhammad Mahmood Alam- Indo-Pakistani War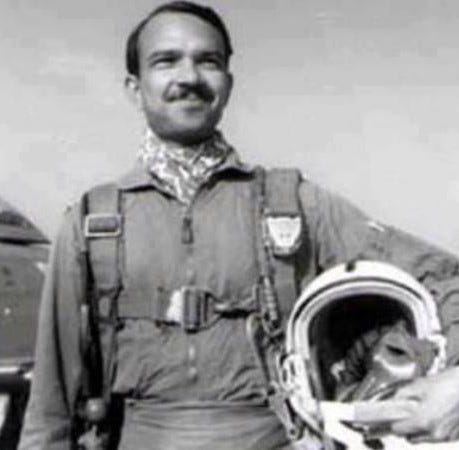 This Pakistani fighter ace was a Pakistani Air Force jet fighter pilot in the Indo- Pakistani War. He was the last fighter pilot in history to become an ace in a single day, shooting down five Indian Hawker Hunter fighter jets in less than 60 seconds. He holds the world record for becoming an ace in the shortest space in time. He also holds the title of being the only jet pilot to become an ace in one day.
Charles B. DeBellevue- Vietnam War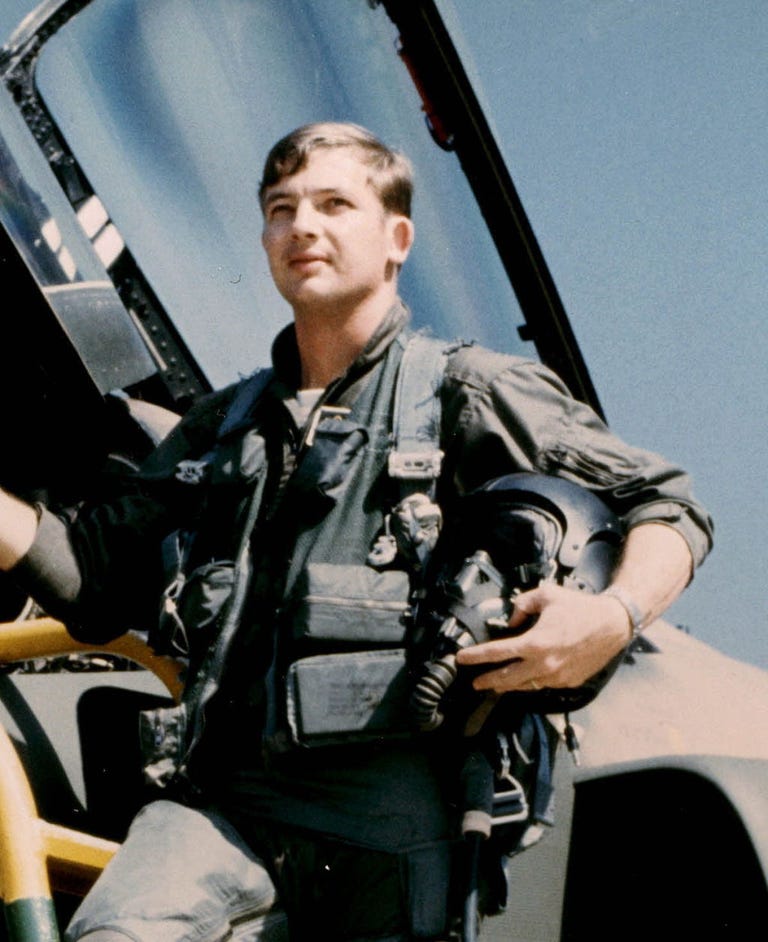 DeBellevue was the most successful American Airman in the Vietnam war. He had 6 confirmed kills through the duration of the war, and was the first Air Force Weapons Systems Officer to become an ace. Only four other pilots also achieved the status of an ace in the Vietnam War.
Giora Epstein- Arab – Israeli Wars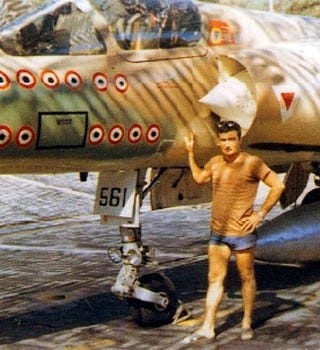 Epistein was a supersonic jet pilot in the Israeli Air Force. He is known to be the ace of aces for supersonic jet pilots having shot down 17 enemy aircraft's. This is the most victories for any pilot in the modern fighter jet era. He was named "Hawkeye" due to his acute eyesight which helped him accurately shoot at enemy planes.
Cesar Rodriguez- Gulf War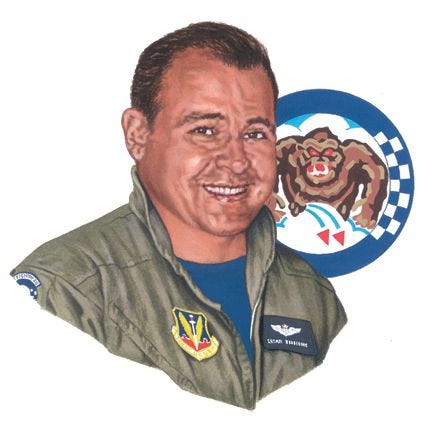 Rodriguez is known as the "Last American Ace", even though he did not shoot down 5 enemy planes. He achieved 3 aerial victories during the 1990's, becoming the most victorious along with three other pilots since the Vietnam War.