1. Notre Dame du Haut.
A bold, twisted interpretation of Church architecture, this building takes grandeur in an entirely unexpected directly.
Despite the unconventional appearance, there's something very religious about the building's solidity and the way it stretches towards the heavens.
2. The Palace of Assembly.
A legislative assembly, this building is Corbusier's greatest example of his understanding of the inexplicably beautiful whole that can be created by combining disparate forms.
3. Mill Owners Association Building.
A surprisingly peaceful, integrative building, the MOA building incorporates itself into the foliage around it. The gentle rise to the building entrance encourages occupancy, and the slanted window frames soften the light inside.
4. Sainte Marie de la Tourette
A small priory that houses nuns and monks, the building is one of Corbusier's boldest. Cutting into the soft French countryside, it looks as though an enormous spacecraft landed and took root.
This was Corbusier's last building in Europe and is more like a fortress than anything resembling a place of worship.
5. Saint-Pierre.
Begun in 1971, this building wasn't finished until 2006, six years after Le Corbusier's death. It was originally designed as a church, but later became a high school and safety shelter.
The way the building balances different forms show a maturity in Corbusier's sense of style. The interior of the building plays with specks of light against it minimal, bare walls.
6. Maison de la Culture
One of Corbusier's often-overlooked masterpieces, the aggressive peak of the building hangs over the first set of windows.
An impressive, daunting façade that tilts towards the ground.
Cité Frugès, Pessac
A surprisingly humble contribution by Corbusier, this building is the perfect representation of his famous phrase 'a building is a machine for living in.'
8. United Nations Headquarters, New York.
Building for the United Nations is no easy task, requiring a balance of poise, solidarity, rigidity and humanity. Corbusier went for a then-confronting mass of blue-tinted glass windows, almost unbroken.
The building is entirely ungiving, leaving it up to its human occupants to deliver the humanity.
9. Petite maison au bord du lac Léman
A house designed for Corbusier's parents, it looks out onto Lake Geneva. The simplistic, minimalist house is all about respect for space. The interior has movable walls and fold-in furniture that allow you to reconstruct space as your go.
10. Usine Claude et Duval Factory
Corbusier was asked to design a clothing factory, after the factory's owner discovered his writing on city planning.
The building is one of his most ugly and forgettable, completely functional. The building does, however, carry his signature matrix of deep window frames.
GALLERY: Our boldest buildings. 
DOWNLOAD: Our Desinabuild brochure. 
The Most Beautiful Equestrian Properties Ever
Equestrian properties seem to have a kind of old fashioned beauty about them, revolving around horses and the activity of riding, one that has existed forever. These gorgeous estates displayed below showcase some of the best horse facilities in spectacular horse country.
New Jersey Farmland- New Jersey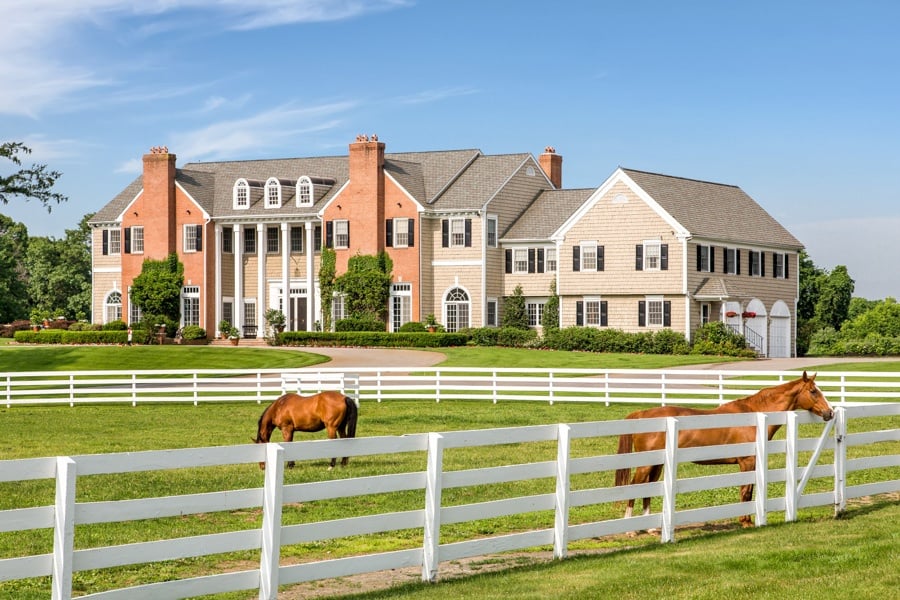 This traditional country estate stands on forty five acres of lush New Jersey farmland. It features an eight stall barn, paddocks, a riding arena and a jumping arena. The house itself showcases luxury through a grand ballroom, a large dining room and beautiful carved marble fireplaces. The estate also features a pool, tennis court and staff quarters.
Red Horse Farm, Massachusetts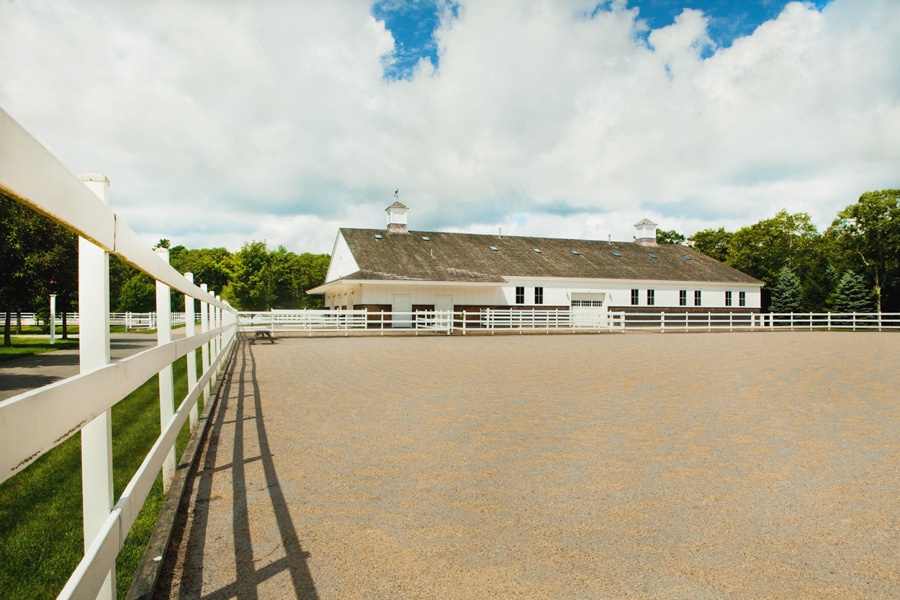 The Red Horse Farm is located closely to the South Cape Beach State Park, situated on seven and a half acres. A custom designed riding surface for both indoor and outdoor arenas compliments the spacious stables. The estate sports other amenities such as a heated indoor arena, individual paddocks and a watering system.
Tudor-Style Mansion, Connecticut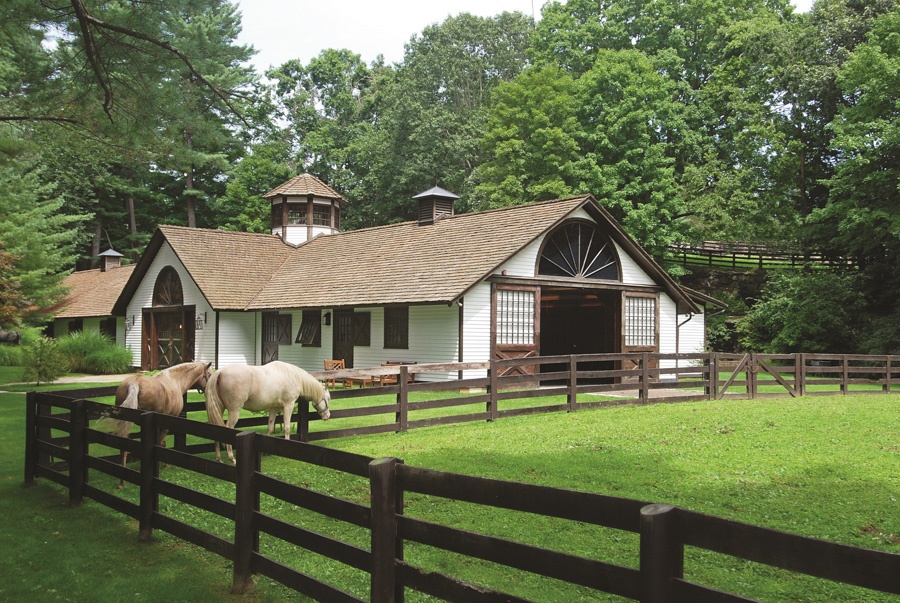 This historical location dates back to 1926. The estate was completely rebuilt in 1988 and now boasts of being a piece of luxury real estate. The 11 stall barn is constructed of beautiful mahogany wood, with the addition of two tack rooms. The estate holds 7 paddocks, a large riding arena and a one-third-of-a-mile trotter track.
Villalagos, Uruguay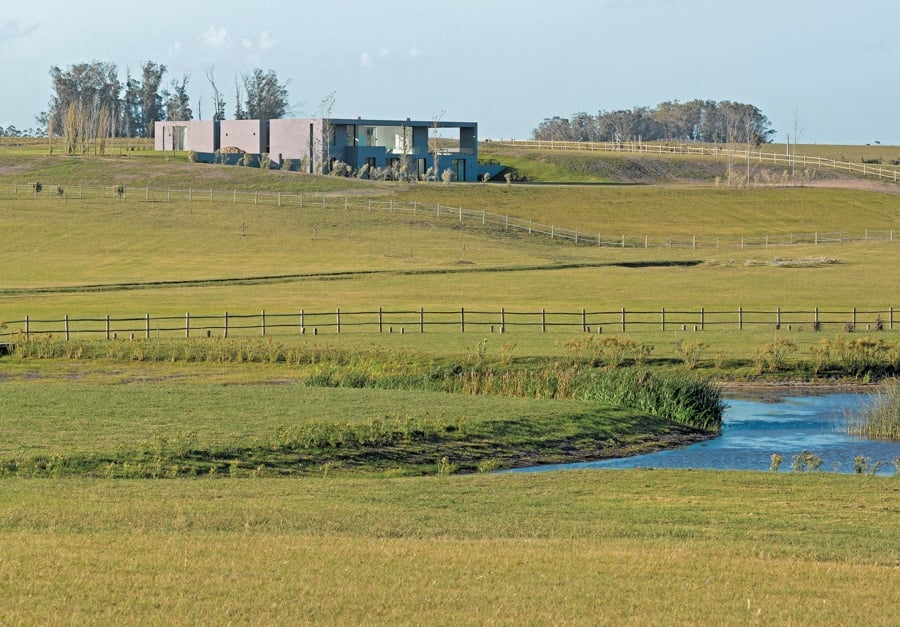 Villalagos is located in one of South America's most beautiful beach resorts. This equestrian community holds thirteen different estates, sharing access of 85 acres of grounds.
La Felicita, Argentina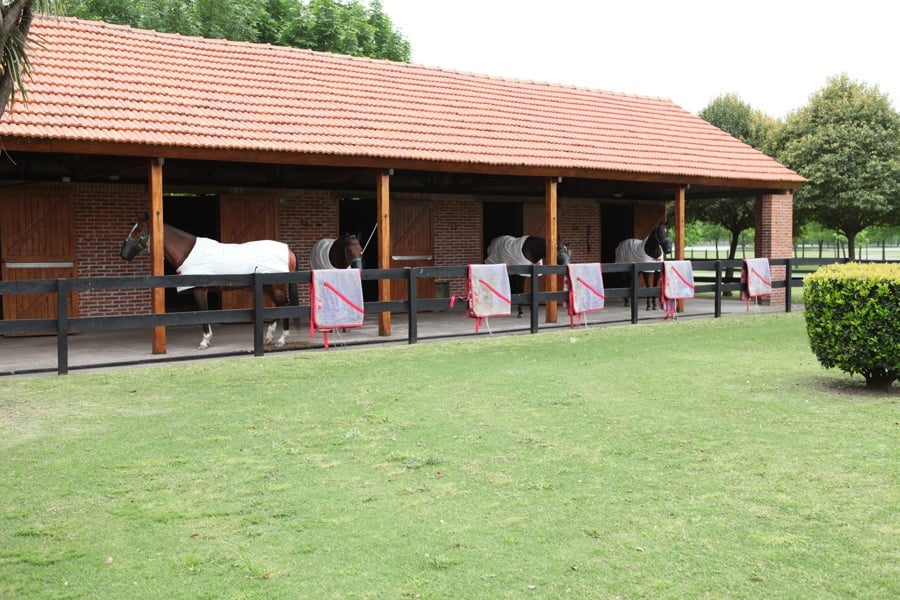 La Felicita is a world class polo club in Pilar, just outside Buenos Aires. This large estate showcases magnificent views and is situated next to the main polo field. The estate features large facilities such as stables to house 44 horses, an onsite veterinary clinic, a club house and tennis courts.
Cuadra San Cristobal, Mexico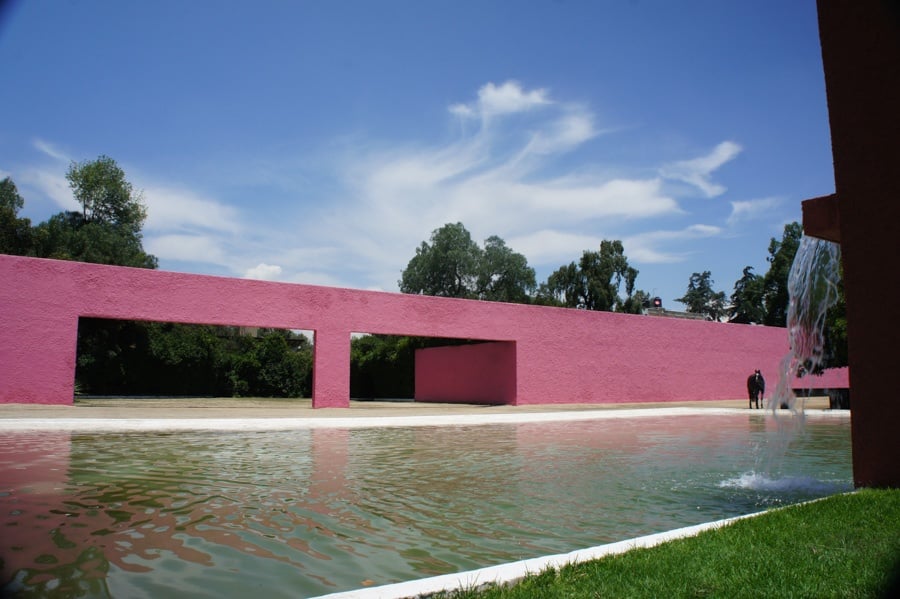 The pink estate was designed by Luis Barragan who won the Pritzker Prize. Architecturally designed to connect the home with the exterior grounds it is ideal for nature lovers. Luxury facilities are located on the estate such as stables, outdoor spaces decorated with fountains, pools and manicured gardens.
June Farm, England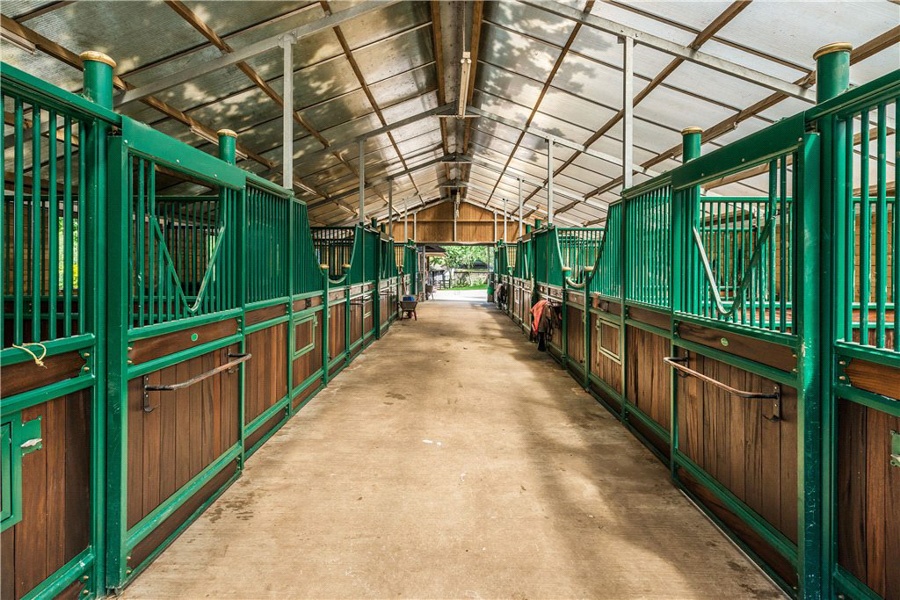 This country estate dates from the 17th Century. It highlights traditional English real estate with it's courtyard surrounded by a gorgeous ornamental rose garden. Although the farm has historical origins, the interior of the main residence has been fully updated, without taking away from the original design. The original stained glass windows, oak floors and stone fireplaces are located throughout the house. Equestrian amenities are extensive with a separate kitchen, spacious tack room, solarium and wide grounds.