Project value
$200K
On-site build time
Two weeks
Project consultants
Raysett Constructions
Building dimensions
15m x 30m x 7.5m high
Powercor helicopter hangar
Client/company
Powercor Australia - an electricity distribution company that operates throughout western Victoria.
Consultants B2B Project & Construction Management handled the project on behalf of Powercor and contracted Raysett Constructions as commercial builder for the hangar, who Central Steel Build worked under.
The brief
Undergoing a large upgrade of facilities, Powercor employed B2B Project & Construction Management to oversee the project who approached us directly for initial costings of a helicopter hangar.
As the project progressed, B2B engaged Raysett Constructions as head contractor. Raysett Constructions then contracted Central Steel Build for the supply and installation of the hangar to house Powercor's fleet of line inspection choppers.
Our scope and build details
Structural concrete engineering including slab design and connection to existing engine test bed slab.
Fabricated hot dipped galvanised steel package.
Purlins and girts.
Design, supply and install (via third party) of main hangar sliding doors and outrigger.
Industrial roller shutter.
External steel cladding (roof and wall).
Skylights.
Industrial fire egress compliant access doors.
Roof insulation.
Guttering and above ground rainwater systems.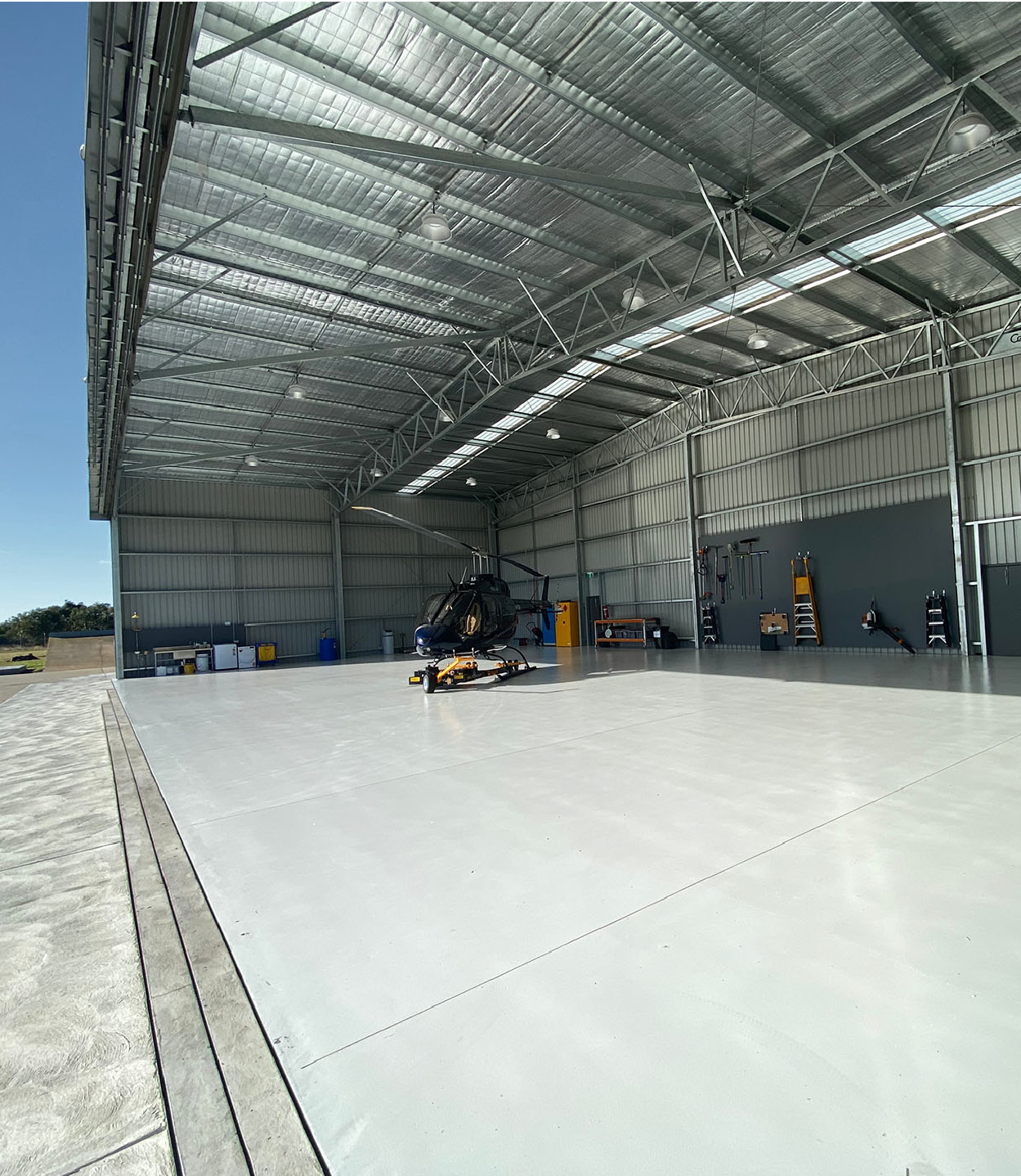 Challenges and solutions
The hangar needed to be erected over an existing 600mm thick concrete slab which was used as a jet engine test bed. We needed to factor the thickness of the slab into our design which meant the hangar sliding doors couldn't be ground run. To overcome this problem, we top hung the doors which is not often done on a building of this width. This required a very heavy front truss designed to take the loading. Additionally, we custom designed a continuous concealed ground guide system that could be bolted to the existing concrete.
The new hangar slab required a lot of thought as to how it would be integrated on top of the existing slab which contained 300mm of fall. The final solution was to pour a new slab on top of the old one and tie it in.
We also custom designed the outrigger system to work via a single outrigger with two supports. This ensured the outrigger would be strong enough to take two doors deep.

Client testimonial
"What I appreciate about working with Central is not only that the installers supplied are generally fantastic, but that if there is ever an issue with material Central stays involved with the project and reacts quickly to resolve issues."
- Chris McGregor, Raysett Constructions