Project value
$200k - $300k
On-site build time
Five weeks
Building dimensions
36m x 26m x 5.5m
Project collaborators
Surfcoast Thermal performance
Taylor Garwood Designs
Soil Industries Pty Ltd
Torquay Helicopter hangar and shed house
Client/company
Private use helicopter hangar with an attached custom designed shed house at a property in the outskirts of Torquay, Victoria.
The brief
We needed to custom design a helicopter hangar incorporating storage area and attached living quarters for overnight stays.
Our scope and build details
Structural steel drawings, engineering certification and computations for both hangar and attached habitable dwelling.
Structural concrete engineering including raft slab design for office.
3D structural/shop steel drawings.
Fabricated hot dipped galvanised steel package.
Purlins and girts.
Personal access doors.
Sliding doors, outriggers, and sealed track system.
Roof insulation.
Footings.
Openings for doors and windows.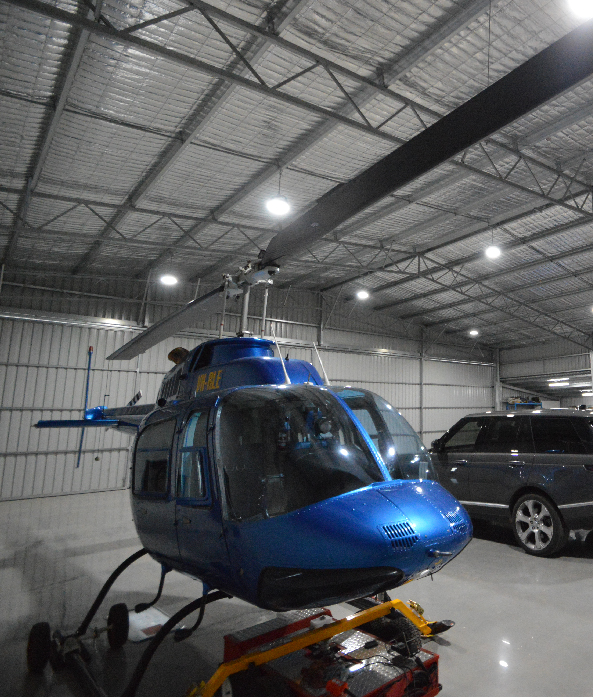 Challenges and solutions
This project required specific attention in the design stage to ensure the building was fit for purpose and the habitable quarters were practical and designed for comfort. We worked closely with the building designer to make sure all details were attended to and a seamless result was achieved.
A waffle slab design was required for the habitable dwelling which obligated special attention in the design stage.
Client testimonial
"Central Steel Build provided the solution I wanted when none of the other shed builders could. I found the whole process with CSB from planning to the building process being completed really good - I couldn't fault it.
I would recommend CSB to build any steel structure, not just a hangar."
- Tim Metcalf, helicopter pilot