1. The NASA Vehicle Assembly Building.
The doors of the building alone are 139 metres tall and allow entire spaceships to be built under cover.
2. The Meyer Werft Dockhalle 2.
Used to build cruise ships, this enormous space looks like it could fit an entire city inside it.
3. The Aerium.
This huge structure was built during World War II in Germany to construct and store airships. It was later bought and re-purposed – a tropical theme park was built inside it.
4. Jean-Luc Lagardere plant.
This factory is designed specifically to build airbuses – the largest commercial airliners. It is large enough to build 8 airbuses simultaneously.
5. Boeing Factory.
Another aeroplane factory – this is larger than three sports stadiums side by side.
6. Lauma Fabric Factory.
Insured for $85 million euros, this factory was built in Latvia in 1965 to produce fabric for underwear.
7. The Tesla Gigafactory.
This gigantic solar panel electrical station aims to harvest enough electrical energy in a year to power half a million Tesla cars.
8. The Stetson Hat Factory.
Operating in the early 1900s and producing only hats, this huge factory seems to defy modern production industries. Over five thousand men and women were employed here.
9. Mitsubishi Motors, North America.
This facility combined production, design, research & development under a single, enormous roof.
10. Belvidere Assembly plant.
An assembly plant owned by Chrysler, this is another factory that pumps out thousands of cars – and make use of an unfathomably large floor area to do so.
WATCH: Aerial Drone Footage of our buildings. 
CONNECT: Central Steel Build on Facebook. 
READ MORE:
The 10 Best Dressage Horses & Riders Ever
10. Juan Manuel Munoz & his horse Fuego de Cardenas.
9. Laura Tomlinson-Bechtolsheimer & her horse Rosalie B.
8. Kristina Bröring-Sprehe & her horse Desperados.
7. Adelinde Cornelissen & her horse Parzival.
6. Anky van Grunsven & her horse Bonfire.
5. Carl Hester & his horse Wanadoo.
4. Isabell Werth & her horse Gigolo.
3. Steffen Peters & his horse Ravel.
2. Edward Gal & his horse Totilas.
1. Charlotte Dujardin & her horse Valegro.
MORE: How much does it cost to build an indoor riding arena?
GALLERY: 30 photos of our local indoor builds. 
READ MORE:
How Much Does It Cost To Build An Indoor Arena 
The Tiniest Houses In The World
Tiny houses have become a trend lately and now it is seen to be architectural and modern to own one of these miniature dwellings.  We have listed some people who took this tiny house trend to the extreme! See the seven smallest houses in the world below.
The Matchbox House, Washington DC, USA
The artist Jay Austin designed this house himself and built it, calling it Matchbox. It is 150 square feet. The house is mobile and is eco friendly and self sustaining, relying mainly on solar energy. The windows on this small house are huge letting an abundance of sunlight in.
House On A Rock, Serbia
In the midst of the Drina River stands a one bedroom house stationed on a rock. It has been standing for over 45 years. The materials that built this house were transported via boats and kayaks It is a private vacation house that looks over the Tara National Park making it not only one of the smallest houses in the world, but also one of the most beautiful.
Seelenkiste, Germany
This house was designed by 3 architecture students for the purpose of being a portable dwelling for one person. It is made to be placed in natural surroundings so the person inhabiting the house can reunite with nature. It's total area is 8 square meters.
Little House, Toronto
This tiny house is complete with miniature versions of all lifestyle amenities, even a little backyard. Its total area is 28 square meters. It was built when Contractor Arthur Weeden decided to make use of the land between two usual sized houses.
Quay House, Britain
The smallest house in Great Britain is a private property of a fisherman, he lived in it until the local council declared it was unfit for human habitation. His descendants have turned it into a tourist attraction. It is only 10 feet high however it is comprised of 2 floors.
Nolla Cabin, Finland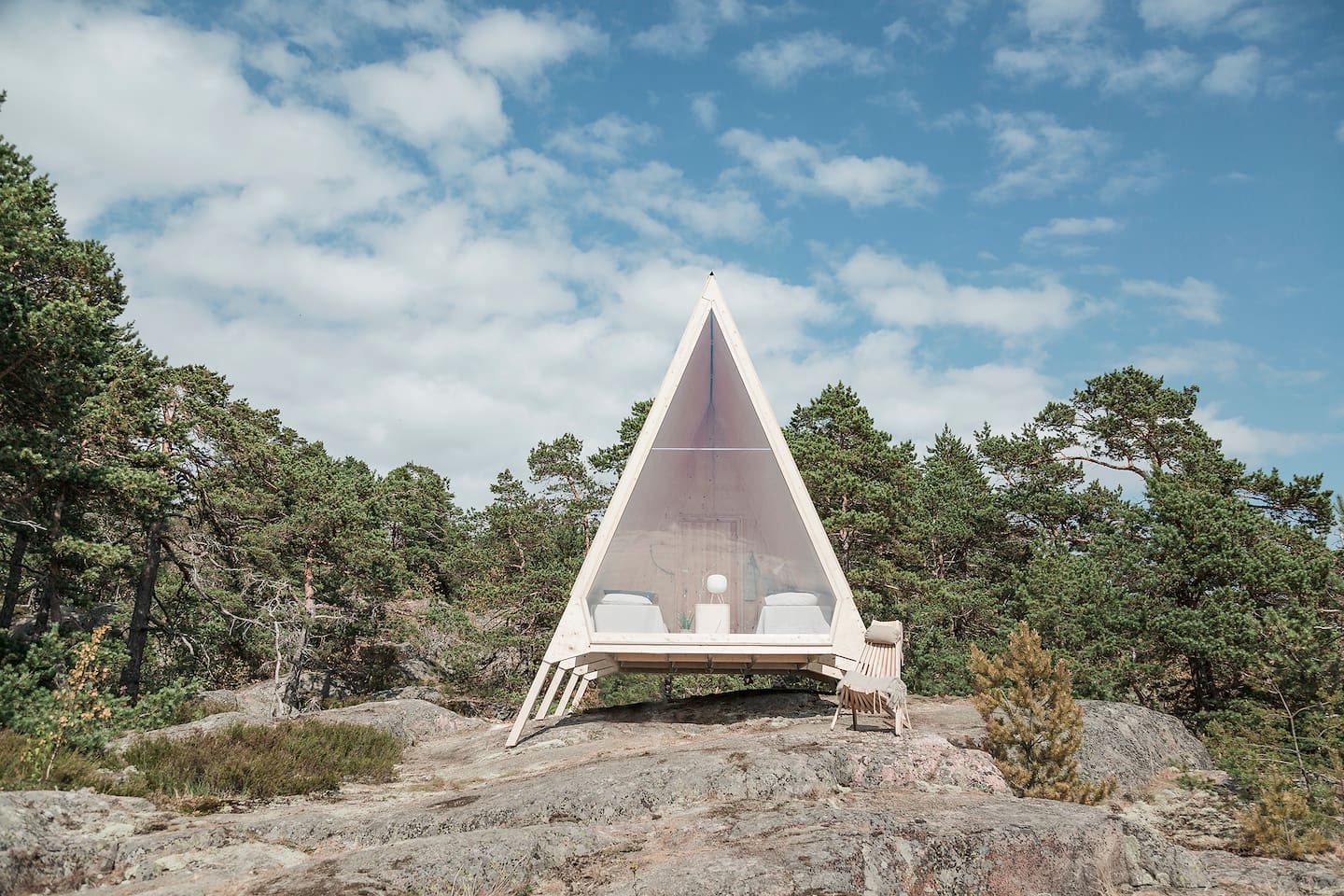 This cabin is a mobile A-framed holiday home which is designed to allow visitors a zero emissions holiday. It's triangle shape looks like a tent which was intended by the architect to make the holiday feel like camping.
Macy Miler's House, Idaho USA
This house was designed and built by Macy herself. She having the qualifications of an architect and being short on money decided to build herself a house with the budget of $11,000. The house is made of sustainable materials and offers enough space for a small family.