A miniature horse named Shine was recently attacked by dogs and was considered unlikely to survive until veterinarians suggested creating a prosthetic limb using a 3D printer.
Shine's hoof became infected after the dog attack and had to be amputated to keep Shine alive. After a 2-hour surgery, Shine had a completely new prosthetic limb and a second chance at life.
The prosthetic was created using radiograph scans of Shine's hoof to create an exact replica.
Shine's owners published this statement online:
Shine is a beautiful horse inside and out. On December 29, 2015 Shine was viciously attacked by a dog/dogs while standing in his paddock … Shine had punctures to his face, his bottom lip was torn, his front knee gashed open and his rear fetlock covered in blood … It was the worst thing I have ever seen in my life.
Shine healed up everywhere except his rear leg. It progressively got worse … Dr. Goodrich thought he would be a great candidate for amputation surgery and a prosthetic if he survived the surgery.
Although Shine was going to be a show horse, his owners have decided that they'd like to use Shine as an inspiring example, taking him to visited wounded soldiers and kids with disabilities.
'If Shine can survive a life changing traumatic experience we want to encourage others to hold on and never give up either,' they said.
How to Keep Schoolyards Safe
There are very high Occupational Health and Safety requirements on school yards, in order to keep both students and teachers safe. There are many things to take into account and ways to maximize the safety of your school yard. Although the risk of injury is never entirely removed, you can make it a lot lower through these ideas listed below.
 Hard surfaces under equipment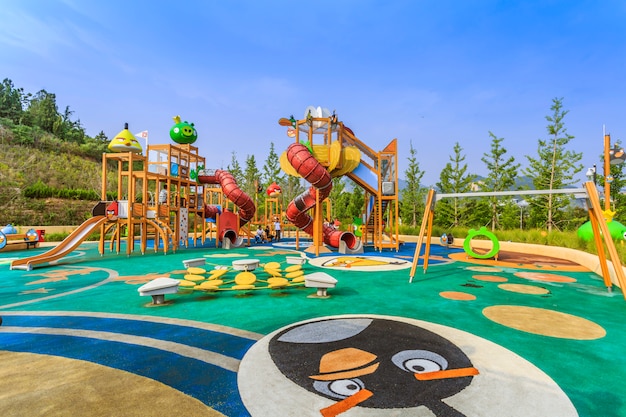 Having hard surfaces under equipment makes the risk of a child hurting themselves if they fall far higher. Try to implement softer surfaces such as bark or spongy flooring to cushion a fall.
Lack of maintenance 
It is obvious that upkeep of any school yard is important. Broken or faulty equipment should be removed and dangers such as pot holes in the grass or slip hazards should also be taken care of to avoid unnecessary injuries.
Inadequate supervision 
Supervision is critical during recess and lunch in the school yard. Students should be watched to avoid them from doing anything that could cause themselves or someone else harm. It is difficult to keep an eye on everyone at the same time though, ensure you have enough supervisors to have eyes over the whole of the school yard during these times.
Potential entrapment 
Little nooks and cranies seem to attract children, especially younger ones to see if they can fit in them. This could result in a child being trapped and getting injured. Look over the school yard to make sure there are no places that provide such opportunity.
Pinch points and sharp edges
Playgrounds often have nasty little defects that can cause injuries as such. Pinch points and sharp edges are big Occupational Health and Safety hazards and should be removed if possible.
High platforms without barriers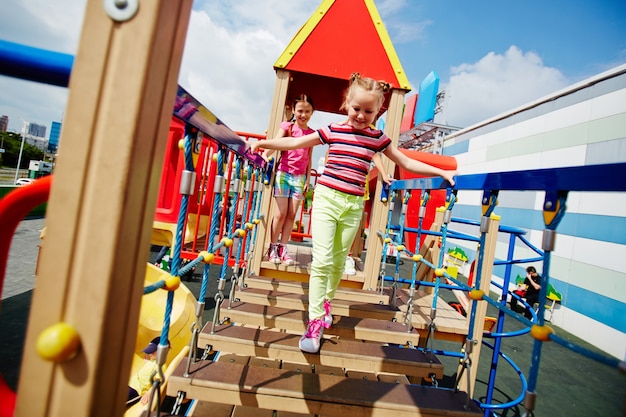 This should be obvious to make sure high places have barriers to reduce the risks of students falling and hurting themselves. However as kids enjoy climbing they sometimes will get to high places where they aren't meant to be. This ties in with making sure playground equipment is used properly.
Overcrowded play areas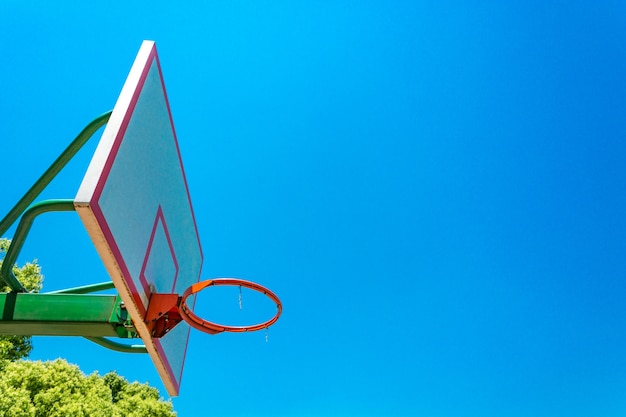 To many students running and playing in one place at the same time is very dangerous. Someone getting hurt is almost unavoidable when there are too many people running around in a small place. Make sure your supervisors look out for this in the school yard to avoid the extra injuries.
Ball Court Covers 
Make sure your ball court covers are as safe as possible by padding all columns properly. Also make sure your ball court cover does not have cross bracing along the sides, as this is sure to cause some serious injuries if any student runs into it or trips on it.