There are very high Occupational Health and Safety requirements on school yards, in order to keep both students and teachers safe. There are many things to take into account and ways to maximize the safety of your school yard. Although the risk of injury is never entirely removed, you can make it a lot lower through these ideas listed below.
 Hard surfaces under equipment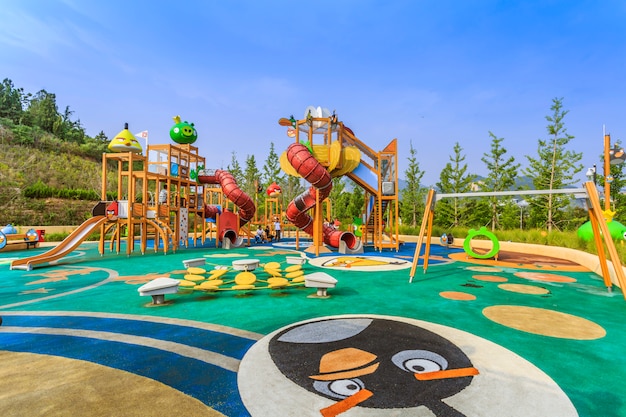 Having hard surfaces under equipment makes the risk of a child hurting themselves if they fall far higher. Try to implement softer surfaces such as bark or spongy flooring to cushion a fall.
Lack of maintenance 
It is obvious that upkeep of any school yard is important. Broken or faulty equipment should be removed and dangers such as pot holes in the grass or slip hazards should also be taken care of to avoid unnecessary injuries.
Inadequate supervision 
Supervision is critical during recess and lunch in the school yard. Students should be watched to avoid them from doing anything that could cause themselves or someone else harm. It is difficult to keep an eye on everyone at the same time though, ensure you have enough supervisors to have eyes over the whole of the school yard during these times.
Potential entrapment 
Little nooks and cranies seem to attract children, especially younger ones to see if they can fit in them. This could result in a child being trapped and getting injured. Look over the school yard to make sure there are no places that provide such opportunity.
Pinch points and sharp edges
Playgrounds often have nasty little defects that can cause injuries as such. Pinch points and sharp edges are big Occupational Health and Safety hazards and should be removed if possible.
High platforms without barriers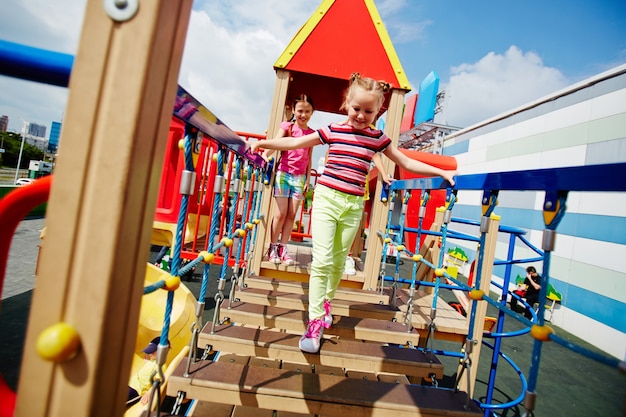 This should be obvious to make sure high places have barriers to reduce the risks of students falling and hurting themselves. However as kids enjoy climbing they sometimes will get to high places where they aren't meant to be. This ties in with making sure playground equipment is used properly.
Overcrowded play areas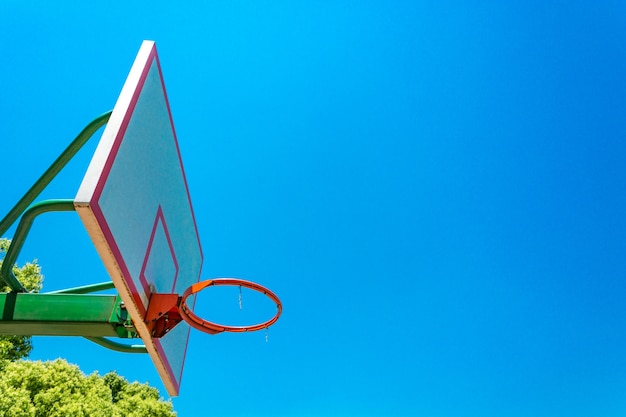 To many students running and playing in one place at the same time is very dangerous. Someone getting hurt is almost unavoidable when there are too many people running around in a small place. Make sure your supervisors look out for this in the school yard to avoid the extra injuries.
Ball Court Covers 
Make sure your ball court covers are as safe as possible by padding all columns properly. Also make sure your ball court cover does not have cross bracing along the sides, as this is sure to cause some serious injuries if any student runs into it or trips on it.
8 incredible educational buildings
The Evelyn Grace Academy. 
Designed by famed architect Zaha Hadid, this redesign won multiple awards. The robust buildings are strong and low-maintenance, but provide expansive, well-lit interiors.
Despite the success, the UK later banned curved schools, saying that non-uniform designs cost too much.
The Surrey City Centre Library. 
This bold public library near Vancouver combines curves and points to create a unique space that utilises solar warmth to make the vast interior comfortable for studiers.
The library was a response to the increasing importance of digital data, with physical book collections no longer being as important. Instead, this library offers open spaces for people to meet and collaborate.
The community was involved in the design process through the library's online presence, encouraging feedback and comments from civilians.
Tenerife University.

This fascinating extension houses the fine arts faculty of a Spanish university. The sparse, empty concrete gives the area a course feeling, allowing students a blank canvas on which to create their own activities and happenings.
Located near a highway, the building curves around to make its public spaces open, but also protected from the busy, urban exterior.
Wooden Open Library. 
This open library near Toronto allows a few people in it at a time. The single shelf works on a take-something-leave-something arrangement that allows strangers to share literature with each other.
The building closes into a box overnight to keep the books safe.
Hallfield primary school.
This London primary school threw together buildings of different shapes and sizes – in many ways echoing the creativity of a school child.
The learning spaces, with their strange curvatures and abrupt corners, became part of the learning resources, and likely embedded themselves into the memory and affections of the students that studied here.
St James Senior Girls School.
This small collection of close-quarter classrooms is designed to transition its students from their educational lives to their adult lives. The village-style architecture encourage pupils to take control of their position in the system, whilst feeling a sense of belonging to their own small part of the school.
The building combines elements of traditional architecture, whilst employing modern elements (such as the clay roof lanterns), which make it more eco friendly and fill the space with natural light. 
Drawing Studio.
This stand-alone drawing studio is situated on the grounds of the University is belongs to in the UK.
It is incredibly bold on the outside and confrontingly minimal on the inside. There's nowhere for students or subject to hide as they experiment with their craft.
The circular face makes powerful use of natural light and the trees and grass of the surrounds are challenged by the starkness of the building.

Kanagawa Kindergarten. 
This beautiful kindergarten has the kind of restrained colour-scheme of a modern loungeroom, without reducing the playfulness it needs to keep children interested.
The building is all about making pupils feel that they can and should be always exploring space, regardless of how much it seems like part of the background.
To see some of our outdoor learning structures, download our COLABuild brochure.