Charles Lindbergh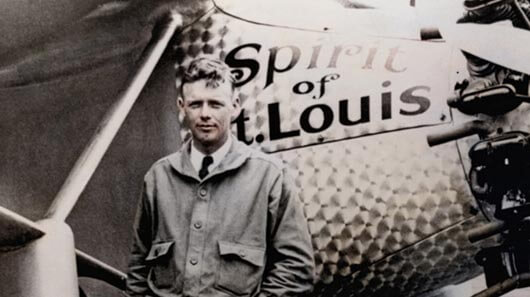 Lindbergh, being the first pilot to perform a transatlantic solo flight on May 20th 1927, is one of the most well known pilots of all time. He participated the flight to win $25,000, a prize that Raymond Orteig offered to the first aviator to fly from New York to Paris non stop. He took a route from Long Island, New York straight across the Atlantic Ocean to Paris. '
Amelia Earhart
This brave woman earned her title to be the first female aviator to fly across the Atlantic Ocean a single year after Lindbergh set the record. However it was her last flight of her career that brought her the most fame. Earhart attempted to circumnavigate the globe but she disappeared in the Pacific Ocean near Howland Island. All other details of the flight remain a mystery to this day.
The Wright Brothers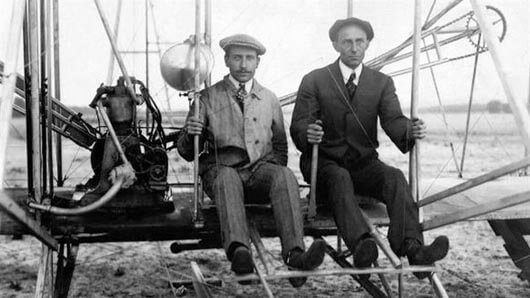 Orville and Wilbur Wright accomplished the first flight of a heavier than air powered flying machine named 'the Wright Flyer'. The flight occurred on December 17th, 1903 in North Carolina. The Wright brothers are known to be the founders of modern aviation.
James Doolittle
General James Doolittle had a great career in the army and airforce. He performed the first flight just using instruments in 1928. However his most famous moment was the Doolittle Raid in 1942 after the attack on Pearl Harbour by the Japanese. He trained a group of pilots to fly 16 US bombers and bomb important cities in Japan. This raid affected the morale of the Japanese so severely Doolittle received accommodation for it.
Baron Manfred Von Richthoven
The 'Red Baron' was an ace German pilot in WW1 who brought terror to the skies of the allied forces. He had the most victories out of all the pilots on either side of the war, shooting down 80 planes. In his final flight he landed his plane safely but was wounded fatally.
Charles Yeager
Charles Yeager was a fighter pilot and test pilot for the US Military. During WW2 Yeager served in the Army Air Force and shot down 14 German planes. After the war he trained to be a test pilot and was the first pilot to break the sound barrier on the 14th of October, 1947.
Erich Hartmann
Erich Hartmann is known to be the most successful fighter pilot in WW2. He flew 1,404 missions and achieved 352 victories. Also he was never shot down out of his plane. His record set him on the list of top pilots ahead of the Red Baron, who was number one before Hartmann's career.
Louis Bleriot
Louis Bleriot was an aviation pioneer from France. He conducted different experiments with constructing and flying various types of aircrafts and went on to become the first pilot to fly across the English Channel in his own monoplane.
Florence Barnes
Florence Barnes was a skilled aviator and also the first woman to fly as a movie stunt pilot. In 1929 she competed in the Women's Air Derby and set the new woman's world speed of 196.19 which excelled Amelia Earhart's previous record. She performed daring stunts in movies which brought her considerable fame.
Chelsey Sullenberger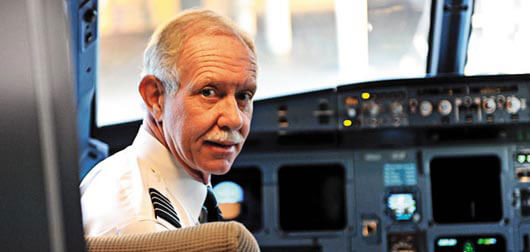 Chelsey Sullenberger is a modern day aviation hero and is well known due to the Hudson River Crash. On the 15th of July 2009 Sullenberger was flying a passenger aircraft and a flock of Canadian geese struck the airliner and damaged both engines. Sullenburger had to decide in the moment the best way to land the plane safely. He performed an emergency water landing in the Hudson River and all 155 passengers survived.
How much does a horse trainer earn?
Have you ever thought about going into horse training, but were afraid of the rumours or low pay, hard work and long hours?
Surveys show that Horse Trainers are actually doing pretty well. Although they work hard and put it a lot of effort, they're usually passionate about what they do and have extremely high levels of job satisfaction.
Take a look at the data below.
Read: 10 Horse Facts Your Almost Certainly Didn't Know.
Data from payscale.com.au.
For ideas & inspiration for your own backyard indoor arena, download a brochure.
8 Of The Most Beautiful, Decadent Homes Ever Built
1. Antilla.
This enormous home is right in Mumbai and it cost well over 1 billion dollars to build.
The home is owned by the fifth most wealthy person on the planet. The interior looks like a hotel – decked out with the most expensive decor imaginable.
2. Fleur De Lys, Beverly Hills.
This ludicrously expensive home in California sold for over $100 million. Mariah Carey was interested in buying the property.
Despite it's traditionalist French design, the building was only constructed in 2002 – it's just made to look historical.

3. Dar al-Hajar, Yemen.
This amazing rock-cut residence was built for then-leader of Yemen in the 1930s as a summer retreat.
The amazing building is not a tourist attraction, offering amazing views.
4. Largest Wooden Home in the world, Russia.
This enormous wooden home was never intended to be so huge or unusual. Built by a Russian gangster, the building got larger as the home-owners ambitions increased.
It was eventually extensively damaged by fire while the owner was in prison.
5. 1009 Fifth Avenue, New York City.
In a city where closet-sized apartments go for millions, this huge building seems almost unfair.
Worth $80 million, the cavernous interiors are grand but plain.
6. Fallingwater House, Pennsylvania.
Perhaps the most famous house ever built in America, this originally cost $155,000 (it was built in 1964).
Since then, it has become a landmark and a public museum. It's essentially priceless.  Many of the architects other buildings sell for around the $1 million mark, but this would likely sell for more than $100 million.
7. Beach House, The Dominican Republic.
This luxurious, expansive house has an enormous shallow pool (it's not trick photography – it's huge).
It can be rented for $5,000 a day.
8. Church Home, The Netherlands.

With a breath-taking exterior and interior, this amazing conversion creates a very memorable home in the Netherlands.
Honourable mention: A Louis Vitton House.
This not-so-glamorous house seems to be the work of someone with a passion for fashion and some spare time (and paint) on their hands.
Not exactly luxury, but it's trying.
Download: Custom-designed home buildings. 
Read: Find out how much your building will cost.