Project value
$600K - $700K
On-site build time
Eleven weeks
Project collaborators
MKM Constructions
Provincial Geothechnical
Architect
Fire engineer
Structural engineer
Operable louvre
Kane Transport office and depot
Client/company
Kane Transport, general freight and heavy haulage needs located in Mitchell Park, Victoria.
The brief
A commercial builder approached us with a brief. His client required a large logistics warehouse incorporating a wash-down area, workshop, outdoor undercover unloading/loading area, plus an office block with outdoor eating area. All with a 90m side to be built on a title boundary. The office is 40m x 10m while the warehouse is 90m x 40m x 7.5m, all together 3600m2.
Our scope and build details
Structural steel drawings, engineering certification and computations.
Structural concrete engineering including raft slab design for office.
3D structural/shop steel drawings.
Fabricated hot dipped galvanised steel package.
Purlins and girts.
External steel cladding.
Industrial fire egress compliant access doors.
Guttering and above ground rainwater systems.
Roof insulation.
Skylights.
Customised storage mezzanine floor.
Parapet walls for office and front of warehouse.
Architectural bulkheads for office and outdoor area.
Attached office complex packages including steel and roof.
Cantilever canopy.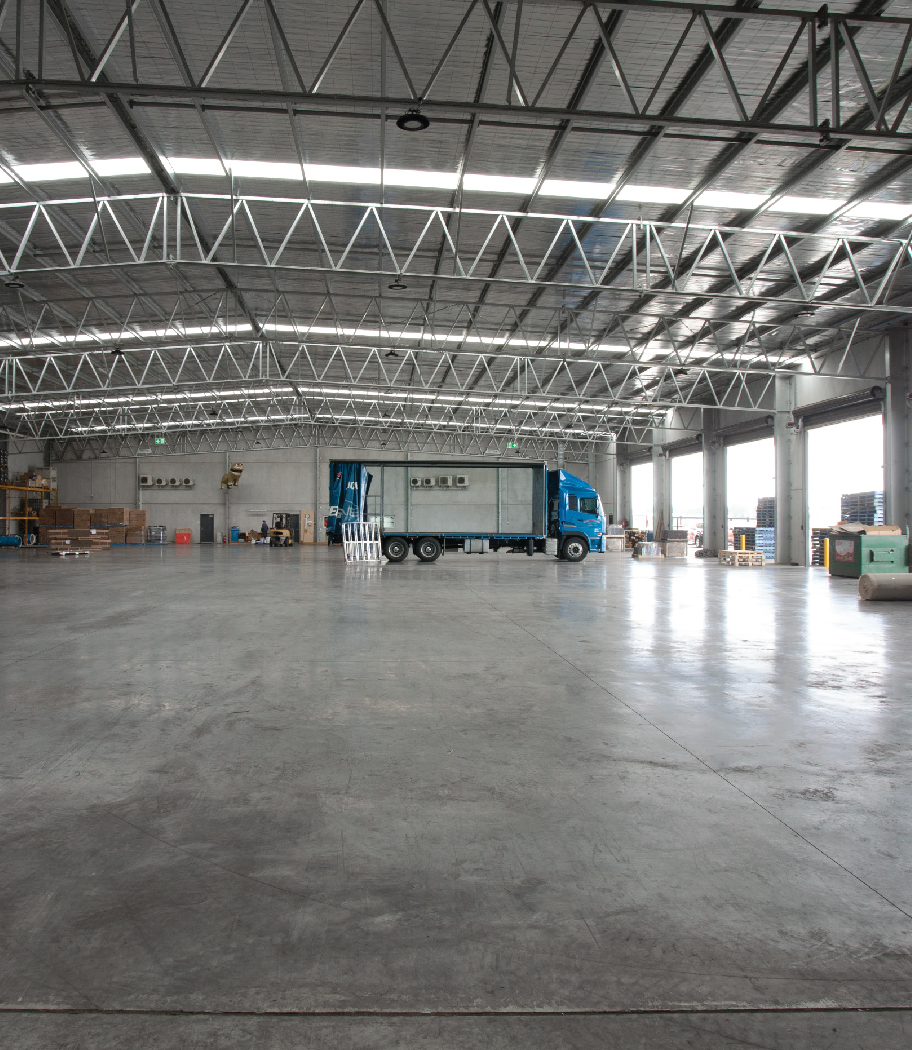 Challenges and solutions
It was essential door openings on the main building, accommodate inbound and outbound freight movements. With a large unobstructed outdoor unloading area requirement achieved by installing a cantilever canopy which was shaped to look like an aeroplane wing with soffit lining to eliminate birds perching and nesting. Building on the boundary meant an economical 90/90/90 firewall required design and engineering. It was crucial the outdoor eating area plans accommodated an operable roof lourve system and box gutters whilst retaining a box look to match the architects drawings, hiding the operating mechanism.
Some large columns front of office were designed to accommodate and optimise internal storage cupboards. CAD file sharing between architect and structural draftsman eliminated several clashes between working drawings/structural drawings.

Client testimonial
"I was so impressed with the work done by Central Steel Build that I have engaged them to build an agricultural shed on my private farm."
- Paul Kane, Kane Transport