Project value
$150K
On-site build time
Thirteen weeks
Project collaborators
Future Shade
Subcontract installers
Building dimensions
18m x 32m x 5.5m high
Merriang Special Development School
Client/company
Future Shade PTY LTD supplies shade roofing solutions for the commercial and domestic sectors in Victoria.
The brief
Future Shade was approached by the school to provide a new shade solution over an existing basketball court. Being faded and in need of repair, the basketball court needed refreshing to fulfil the aim of providing a covered learning space to be used all year round. The shade structure needed to be safe for children and low maintenance.
Our scope and build details
Structural steel drawings, engineering certification and computations.
Structural concrete engineering including raft slab design for office.
3D structural/shop steel drawings
Fabricated hot dipped galvanised steel package.
Purlins.
External steel cladding.
Guttering and above ground rainwater system.
Skylights.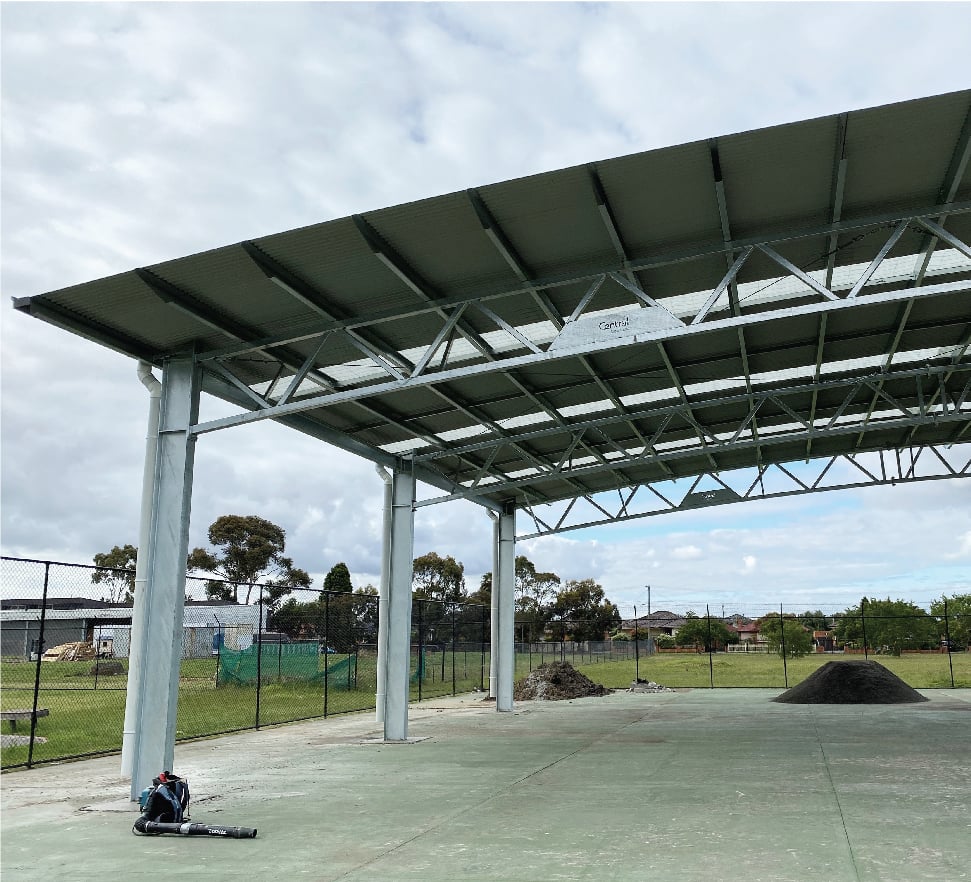 Challenges and solutions
Access to the ball court cover was limited with the main access point being a natural low lying area where rainwater accumulates due to incorrect existing drainage. To overcome this issue, a temporary driveway of crushed rock was laid to allow for easy traffic flow.
At the point of excavation, the installers found a thick layer of rock which stopped all works. Future Shade contracted a local rock drilling company to core drill the rock, allowing the project to continue on schedule.
We worked with Future Shade to meet the school's handover date, allowing new trades onsite to complete the surrounding synthetic turf works.

Client testimonial
"Another smooth project with CSB, we look forward to working with you on the next one, the school was thrilled with their new covered outdoor learning area ( COLA ) and praised all workers onsite for their professionalism and attention to detail."
- Darrin Cooper, Future Shade