Project value
$700K - $1M
On-site build time
Fourteen weeks
Project collaborators
Raysett Constructions under B2B Construction
Architect
Structural engineer
Geotech consultant
Project management co.
Powercor industrial workshop
Client/company
Powercor Australia, Kyneton Branch. Powercor is an electricity supplier.
The brief
We were originally asked to quote for the tender on the pre-engineered structure that was fully scoped out by architects, engineers and the builder. We did this, then also offered a lot of advice and cost savings for them to do things such as; change cladding profiles, change roofing profiles, change gutter design and profiles, re-engineer main structural steel for more economical design. They accepted nearly all our recommendations which saved hundreds of thousands of dollars over the job.
Our scope and build details
Structural steel drawings, engineering certification and computations.
Structural concrete engineering including slab and footing design.
3D structural/shop steel drawings.
Fabricated hot dipped galvanised steel package.
Purlins and girts.
External steel cladding.
Industrial fire egress compliant access doors.
Guttering and above ground rainwater systems.
Extra large door openings with girder beams.
Soffit lining.
Architectural angled cladding.
Hip roof.
Internal walls and inset walls.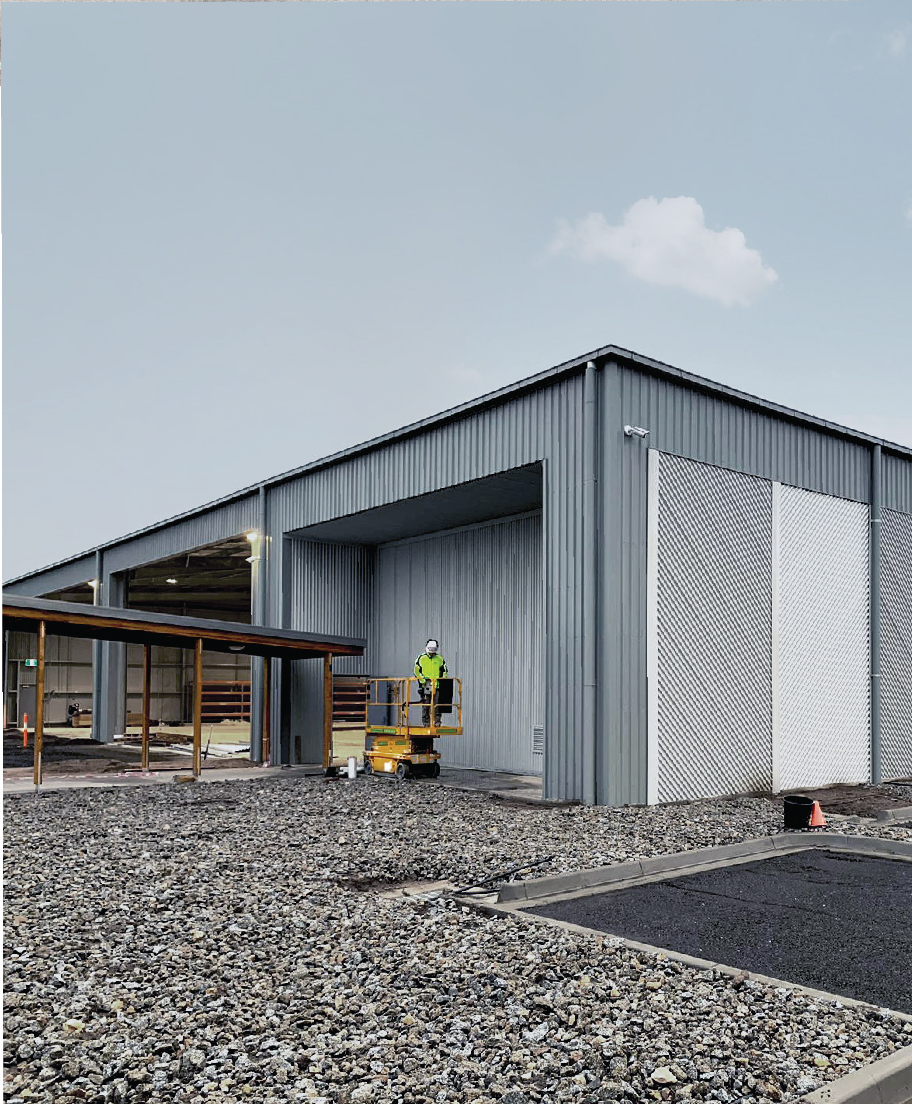 Challenges and solutions
With very large span openings for the clients own large doors, the use of girder beams along with the removal of columns was a well considered solution. The end design used a hybrid design of eave girder beams plus a ridge girder beam to help spread the load of the large openings.
Going through multiple layers of builders minus direct access to the decision makers, the process became fairly long for sign off but in the end the economical approach was well received and the client went with a lot of the cost saving options
We were instrumental in saving the client a significant amount of money. The design team (along with the engineer) did a great job in coming up with economical design solutions and engineering.

Client testimonial
"CSB offered a high quality product and assisted during design development to achieve the client's design objectives at the most economical cost. Their use of Australian steel along with being a local contractor was another plus in our view.
Central's staff were pro-active during pricing, detailing and fabrication stages of the project and provided regular progress updates which assisted our on-site planning.
Always approachable and available throughout the project to resolve detailing, they also made modifications where requested by our clients. CSB delivered across all stages of the project and we have been very pleased with the approach of all members of the team who worked to ensure our highest expectations were met.
The use of 3D modelling during design development helped to visualise some of the legacy issues imposed by the original designers which allowed us to work together to resolve these problems with a minimum of fuss.
We have completed two other projects with CSB since the Kyneton project and have another half dozen in the pipeline, needless to say we certainly are working with them again!"
- Steve Beshara from Raysett Constructions