Project value
$470k
On-site build time
Five weeks
Project collaborators
MKM Constructions
Fire engineer
Shade'N'Sails
Client/company
Shade'N'Sails specialise in manufacturing and installing high-quality, custom-designed outdoor shade products across Australian and international markets.
The brief
We were approached by MKM Constructions to partner in the design and construction of Shade'N'Sails' new facility in Ballarat, Victoria. They required a clearspan manufacturing building designed to accommodate specialist equipment and machinery and a combined showroom and office complex.
Our scope and build details
Structural steel drawings, engineering certificate and computations.

3D structural/shop drawings.

Fabricated steel package, hot dip galvanised.

Purlins and girts.

External steel cladding (roof and wall).

Colorbond roof and wall cladding.

Industrial fire egress compliant access doors.

Guttering and rainwater system.

Roof insulation.

Cantilever canopy.

Parapet walls.
Attached office complex package.
Box gutters.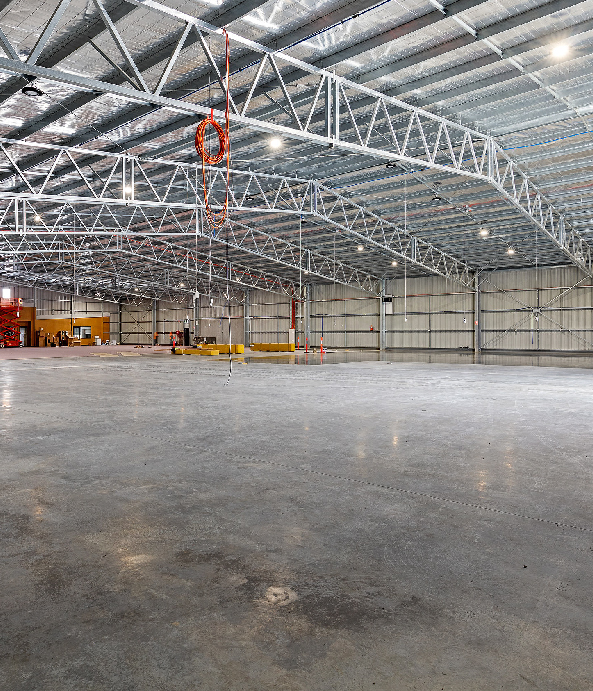 Challenges and solutions
Shade'N'Sails envisaged the front office façade to represent shade sails. This resulted in a challenging stepped roofline design. Our team worked closely to develop an economical steel package for the offices that would accommodate the custom façade with numerous box gutters whilst maintaining clean architectural lines from street view.

Client testimonial
"Thank you for everything you have done to build our new manufacturing facility to the highest standard. We couldn't be happier with the whole project and dealing with such a professional business plus a personal touch."
- Shade'N'Sails to MKM Constructions (commercial builder)