Project value
$200K - $300K
On-site build time
Four weeks
Project collaborators
Provincial Geothechnical
Architect/ draftsperson
Earthmoving contractor
Concrete panel supplier
Roller shutter supplier
Builder for fit out works
Trans Air & Electrics
Client/company
Trans Air & Electrics - Auto electrical and Air Conditioning Services for trucks located in Bendigo, Victoria.
The brief
The client approached us direct to build a new workshop and office that he could run his truck-auto-electrical and air-conditioning business workshop from as he had outgrown his existing premises. He required the design to be economical with a specific budget to work within, to make the build viable.
A must include: small front canopies with integrated box gutter designs, boxed out front on canopies with split heights for clients own architectural cladding. The brief also outlined a mandatory incorporation of a 5kpa mezzanine for storage which was to be above his office area.
Our scope and build details
Structural steel drawings, engineering certification and computations.

Structural concrete engineering including slab and office slab design.

Concrete panels engineering and design.

3D structural/shop steel drawings.

Fabricated hot dipped galvanised steel package.

Purlins and girts.

External steel cladding.

Industrial fire egress compliant access doors.

Guttering and above ground rainwater systems.

Roof insulation.

Box guttering on office canopy.

Customised storage mezzanine floor.

Parapet walls for office and front of warehouse.

Architectural parapet for front office canopies.

Glazing beam and opening for clients own architectural glazing.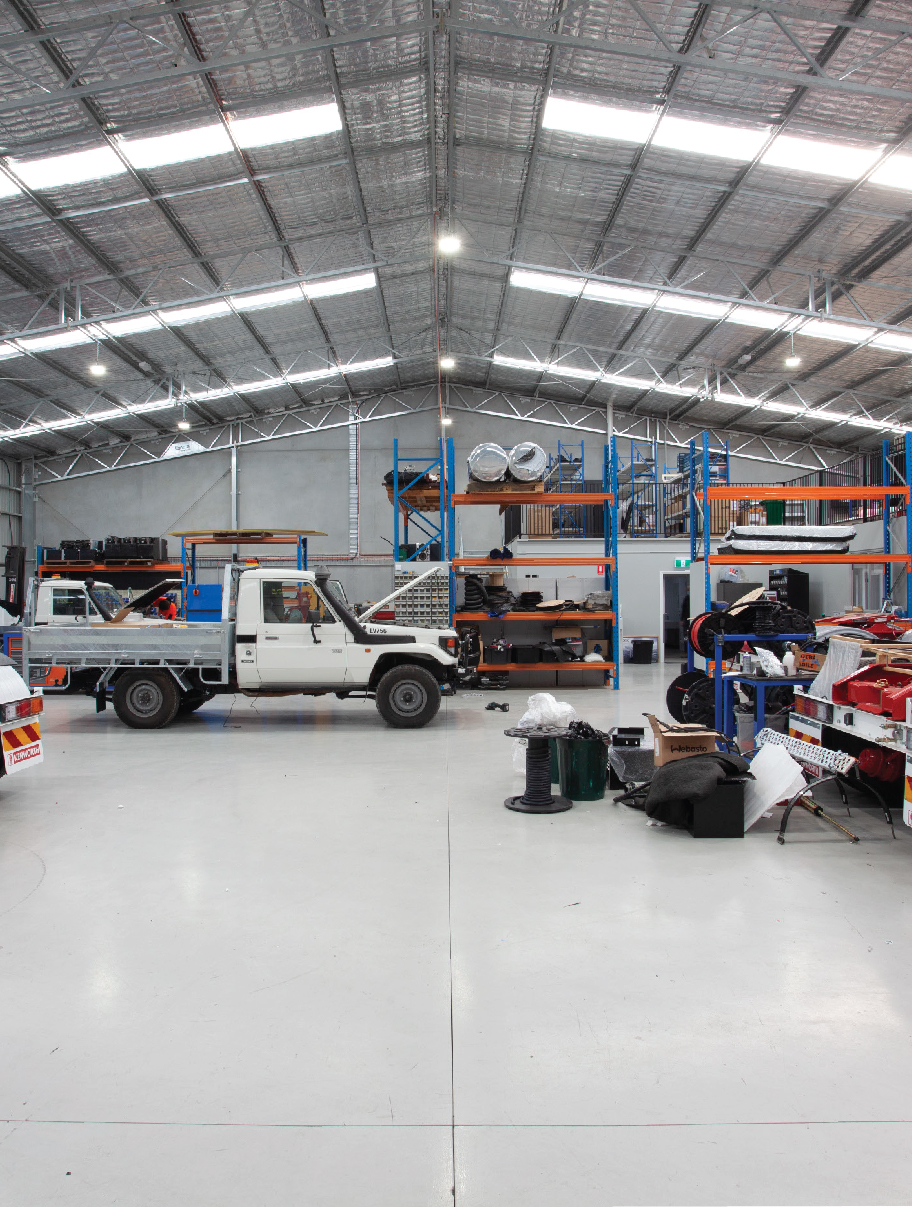 Challenges and solutions
There were no specific challenges apart from working within a specific budget, a challenge we always rise to and find solutions to achieve.

Client testimonial
"CSB came recommended from other people using them. From the first contact they were easy to deal with, so I didn't feel the need to keep looking. The working relationship throughout the process was spot on, good communication. A good testament to the team. The whole process was pretty seamless and I would do it again because it was so smooth.
The end result nothing stood out (as an issue), everything flowed and worked from what we discussed, to the drawings, to how it rolled out. Even trouble shooting was smooth and not an issue. The quality of construction and overall finish were a highlight. The installer was great and made the whole job easy. Also, it came under budget. I would not hesitate to build with Central again."
- Steve Bobin, Trans Air & Electrics