Project overview
PROJECT VALUE
$1M - $1.1M
PROJECT BUILD TIME
13 weeks
BUILDING DESIGNERS
KVA Design
CONSULTING GEOLOGISTS
Provincial Geothechnical
OTHER CONSULTANTS
Fire engineer
Lift supplier
CPH Group
Client/company
CPH Group, supply solutions for the digital print industry located in Corio Victoria.
The brief
The owner builder reached out to Central Steel via referral, commissioning us to design and construct a new office + warehouse to suit the size of the pre-purchased industrial block. The street presence was extremely important with emphasis to accommodate the architectural cladding already earmarked.
The various entry/exit points and general flow of traffic on the site was crucial, whilst placing of canopies and doors required much consideration to comply
with council and fire service requirements.
The office building is 40m x 13m (double story) and the warehouse is 77.5m x 57.9m x 7.5m (4487m2). Our scope of the project was completed in December 2019.
Our scope + build details
Structural steel drawings, engineering certificate and computations

Structural concrete engineering including raft slab design for office

3D structural steel drawings

Fabricated steel package HDG

Purlins and girts

External steel cladding (roof & wall)

Industrial roller shutters

920w industrial fire egress compliant access doors

Guttering & above ground rainwater systems

Roof insulation

Skylights

Customised office mezzanine floor

Parapet walls for office & front of warehouse

Architectural bulkheads for office

Structural glazing support beams

Attached office complex packages including steel & roof
Lift void support steelwork
Cantilever canopy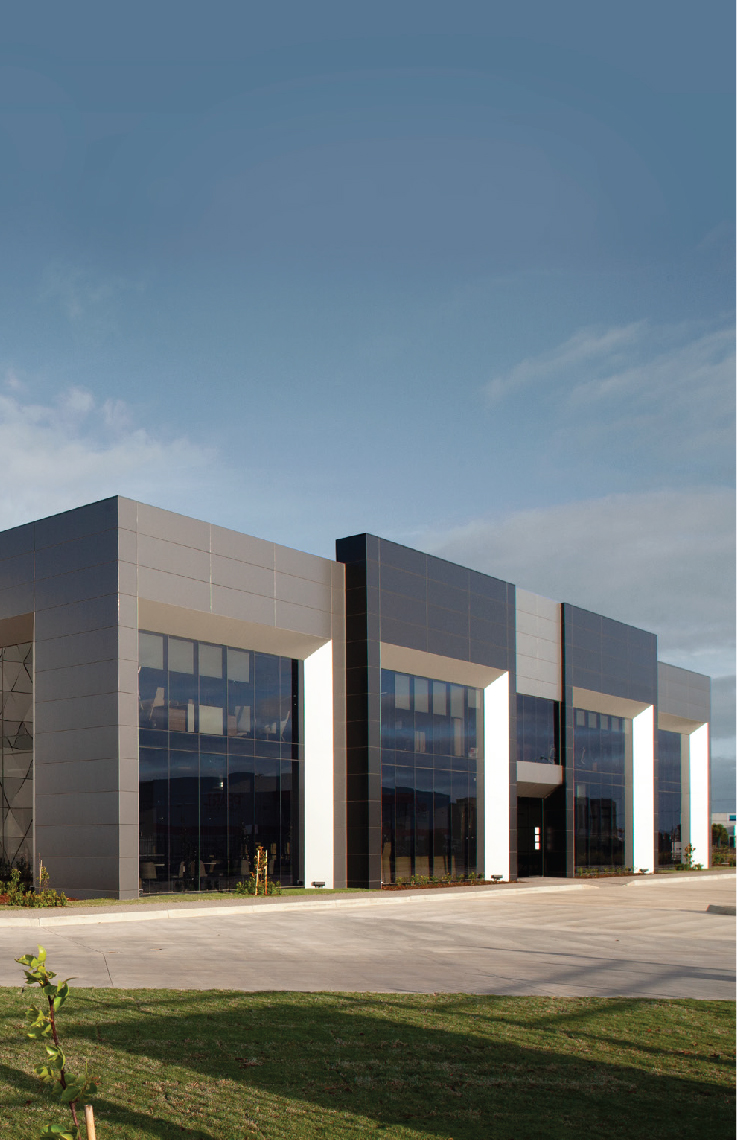 Challenges + solutions
Close collaboration with a fire engineer was essential due to the size of the building (vol m3). Some economical fire wall framing was added to meet requirements. A lift supplier was consulted to ensured a seamless steel package
was included in the office mezzanine floor frame, to accommodate a future lift installation.
The colour scheme needed careful thought, a splash of modern hues of vertical/horizontal wall cladding became a feature. The office required well-concealed internal box gutters/rainheads. Plus 6, 900mm dia rota roof vents were included to comply with airflow requirements.

Client testimonial
"There were three core reasons we decided to partner with CSB on this job - 1. Trust, 2. Quote within 24 hours (that was very impressive if they can do that) 3. Good pricing.
I wanted them to look after the job being a business owner not a builder as such. The partnership was really great. We were not the easiest customer being a first time owner builder, there was a bit of learning on my side and they helped me through that experience particularly assisting me with other sub-trades and contacts needed.
The best thing CSB did was take our vision/design, and value engineer it to work. They made it very easy for us and the sub-trades to work out the 'meccano' together. The facade and windows all came together seamlessly, amazing how fast the structure went up!
Central was a pleasure to work with, all points of contact were so helpful. I'd absolutely would build with them again."
- Tristan Hornsey, owner builder