Project overview
PROJECT VALUE
$500K - $600K
(supplied & delivered only,
this does not include install)
PROJECT BUILD TIME
8 weeks (CSB's scope)
BUILDING DESIGNERS
Central Steel Build
OTHER CONSULTANTS
Dairy designer:
JGM Dairy Design,
Florida USA
Installer via client
Dehne Vinnicombe
Client/company
Dehne Vinnicombe, fourth generation farmer from Vinnicombe dairy
The brief
Our client Dehne was changing the way he currently farmed, expanding his dairy operation which included setting up an 800 cow freestall barn and associated infrastructure.
The building itself was designed and drawn by JGM Dairy Design based
in Florida USA. This required CSB to liaise with the client and JGM,
to deliver both the bays and frame type for the most economical solution.
A ventilation ridge was included in the design to encourage airflow.
Improved efficiencies concerning resources and dairy operations were an
obvious motivator for the new build along with a significant reduction of feed waste as a result of feeding in the cover.

This is the first dairy barn Dehne has been directly involved in.
Our scope + build details
Structural steel drawings, engineering cert and computations
3D structural/steel drawings
Fabricated steel package
Hot dipped galvanised purlins and girts
External steel cladding (roof)
Raised ridge ventilation cap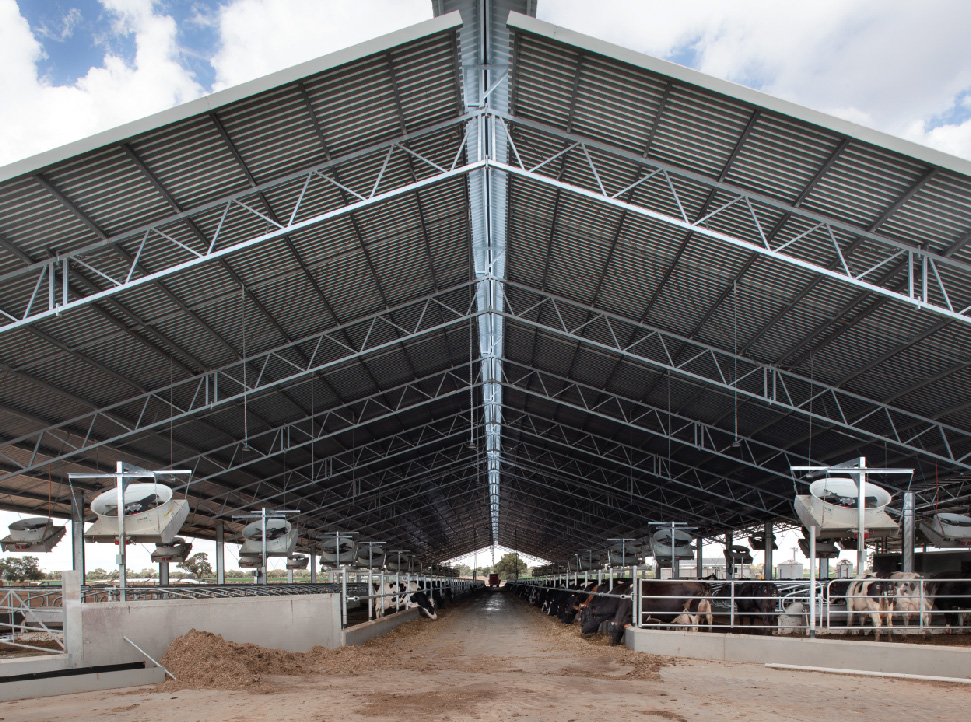 Challenges + solutions
Our team investigated post options including both clear span and internal, deciding to opt for clear span design to allow for greater ease for the team installing the feed lane fit out.

For the ventilation ridge design, we took a collaborative approach working alongside JGM Dairy Design.
Client testimonial
"The designs were from America...we took them to Central Steel Build because it was not just a normal shed. After showing them our plans, nothing was too big of a drama. CSB went well beyond their means to help us out.
The biggest thing we found out when we were looking was that sheds aren't just sheds! They have extra support in them and all those kinds of things and it's just not all about the price in the end.
The reason we went with CSB: we asked for an upfront quote, they were very genuine. They came to us and said we can do 'this and this' making any modifications that we needed until we knew exactly where we stood. Their delivery date was smack on time without a doubt and we were very happy with that. They were just absolutely brilliant to deal with, whenever we asked for [whatever] it was always delivered and our consultant Cameron looked after us very well. Cam was absolutely unreal."
- Dehne Vinnicombe