The average cost to build a steel farm structure (grain sheds, hay shed, machinery sheds, shearing sheds etc.) is $59,151. 
Prices range from $10,000 up to $200,000 and depend on the scale and purpose of the building.
To receive an exact quote on your project within 24 hours, send us through the details of your project here.
For an itemised list of the costs of building a shed or farm building, read our article on it here.
DOWNLOAD: See previous FarmaBuild projects in our brochure. 
5 Ways a Steel Shed Protects Your Assets from Fire Hazard
Victorian farmers and rural property owners all have one thing in common during the hot dry season: risk and exposure to bushfires and grassfires.
Fire is a very real threat to all of us, and awareness has obviously increased hugely since the Black Saturday disaster. But are those of us who are subjected to risk doing all we can to improve our fire plan and preparedness?
One simple method, often overlooked, is to ensure our assets are protected by a steel frame shed. Steel is sturdy and fire-retardant, and regardless of the nature or intended use of the shed, it ensures your assets are stored in a central, landmarked location.
Whether its machinery and equipment, feed or stock, the advantages of having your assets stored under a roof are huge:
1.   Should your property become subject to the thread of fire, it's so much easier to protect a central, pinpointed location and confined area.
2.   It is easier for you to maintain the surroundings, keep the grass slashed and immediate area clear of fuel, and ensure adequate water storage nearby.
3.   There will be easy access for vehicles to gain entrance to and protect the location in adverse circumstances.
4.   Your assets are also protected from the conditions a fire can produce; ash, embers, smoke and heat that can all cause excessive damage. A roof and/or walls offer a certain shield from these elements, and can also help to keep stock calm.
5.   Furthermore, a sturdy steel frame and cladding have a much higher fire-retardant rating than many of the older style timber frame and beam sheds that can be found around Victoria.
If you can fit yourself into the group of Victorians that live under the summer fire threat, and are interested in increasing your chances of protecting your rural assets from risk of fire, you can contact Central Steel Build for advice and assistance.
Contact Central for a free consultation, advice on your property setup/possible site location for a shed, and an obligation free quote. 1300 955 608, or visit centralbuild.localdev.highbrow.com.au
We're here to help protect Australian farmers.
5 Great Moments In The History Of Aviation
Flying has always been an aspiration of the human race since the beginning of time. Throughout the ages, through trial and error we got there and continue to improve in the aviation industry currently. Here are some of the highlights of the history in flying throughout time.
Hang Gliders 
The beginning of flight history in most peoples opinions is the Wright brothers flight. However, it was in the year of 1853 that for the first time a human ever left the ground in some kind of flying apparatus. The hang glider was designed by Sir George Cayley in Great Britain. Gliders continued to be worked on over the  nineteenth century, and these findings influenced the the Wright brothers when designing their aircraft.
The Wright Brothers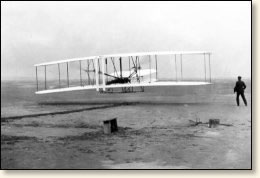 50 years later the first successful aircraft was designed and flew by the Orville and Wilbur Wright. Many others at this time were on a race to do achieve the same thing, but these two mechanics from Ohio beat them to it. Their first flight occurred on the 17th of December 1903 in North Carolina, lasting 12 seconds and covering 120 feet.
Transatlantic Flight 
After 1903 the aircraft developed rapidly. More inventors begun taking an interest in flying and the aircraft's became larger and better-controlled. Audacious flying goals were made, however not many were met. One of these goals was to make a transatlantic flight from United States to Europe. This was accomplished by a navy aircraft in 1919, with only one out of three aircraft's leaving the US making it to the UK.
The most well known transatlantic flight in history is when Charles Lindbergh flew in his aircraft named The Spirit of Saint Louis from New Jersey to Paris in May 1927.
First Airlines 
As airplanes became fashionable being such an exciting form of new technology, everybody soon wanted to fly in one. Due to this commercial airlines were created. The first airline formed was in 1913 and flew between St Petersburg and Tampa, Florida. This airline only lasted in business for one year, yet it was a milestone in the history of flight triggered the formation of dozens more airlines in the coming years.
Supersonic Flight 
An exciting aviation goal was to achieve supersonic flight. Charles Yeager was the first to achieve such a flight in 1947 in an experimental plane. Future research being put into supersonic flight lead to the development of aircraft's such as the passenger plane The Concord and the military reconnaissance plane named the Blackbird SR-71.